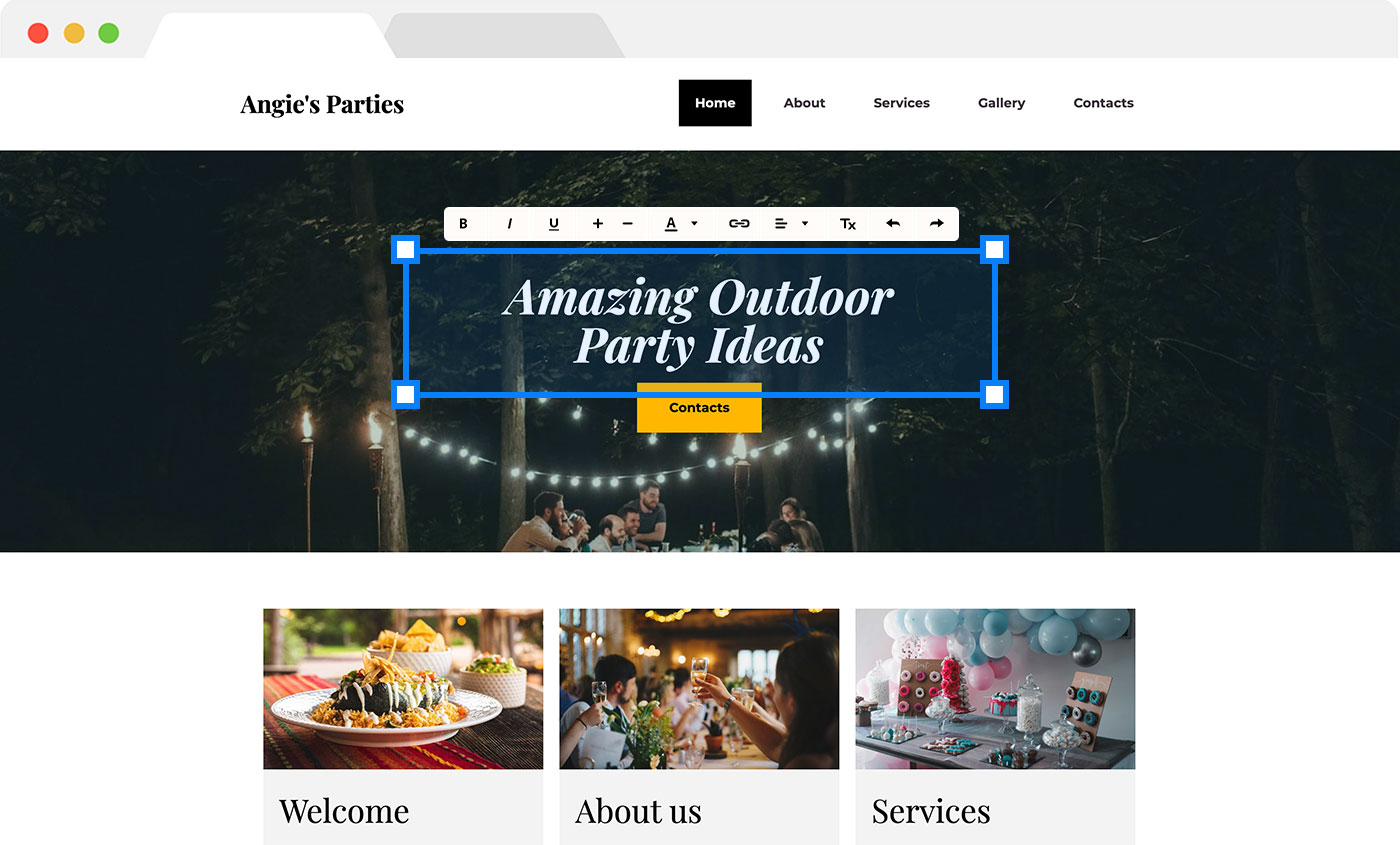 Easy Website Builder
Create and publish a website in minutes with the ready-to-use templates. Get SiteMojo for free with web hosting.
Get Started
See the demo
200+ website templates
Save time and kick-start your website! Choose from hundreds of free and fully responsive templates covering every need. Use the template as is or adjust it in a few clicks.
Drag & drop interface
Customize your website with ease. Place your images, text, or videos with the intuitive drag-and-drop editor.
Responsive design
Ensure your website maintains a sleek appearance on all devices, including mobile phones, tablets, and desktops.
Import your existing site
Import your website content into SiteMojo in just a few clicks, then start editing it immediately.
Supports 45+ languages
Set up a multilingual website by choosing from a wide variety of languages, from French to Mandarin to Italian.
Get SiteMojo with all our Web Hosting plans
Go
Affordable plan, great for personal projects. As low as
C$3.89/mo
C$9.99
Save 61%
Add to Cart
BASIC Performance
Single Website
Unlimited1 Space & Traffic
Powered by renewable energy
1 Email Account
Standard Hosting Features
Free Site Migration
Google Ads Credit
Free SSL Certificate
SiteMojo Basic
Most Popular
Pro
Pro performance, premium features, free domain
2
, and more! As low as
C$3.92/mo
C$12.99
Save 70%
Add to Cart
ADVANCED Performance
Unlimited1 Websites
Unlimited1 Space & Traffic
Powered by renewable energy
Unlimited Email Accounts
Standard Hosting Features
Free Site Migration
Google Ads Credit
Free SSL Certificate
SiteMojo Advanced
Free Domain2
Optimized for WordPress
Premium Features
Email Marketing (500 contacts)
Enterprise
Best performance for demanding websites, with SSL. As low as
C$11.89/mo
C$21.99
Save 46%
Add to Cart
FASTEST Performance
Unlimited1 Websites
Unlimited1 Space & Traffic
Powered by renewable energy
Unlimited Email Accounts
Standard Hosting Features
Free Site Migration
Google Ads Credit
Free SSL Certificate
SiteMojo Advanced
Free Domain2
Optimized for WordPress
Premium Features
Email Marketing (1000 contacts)