How to drive Facebook's traffic to your website
Want to receive more organic traffic to your website from Facebook? The key to getting more visitors is to create content that drives engagement and entices people to click on links to learn more. In this article, we'll be taking a look at several strategies that you can use to get your content seen - and ultimately drive traffic to your website.
Facebook is the largest social media network in the world, with more than 2.7 billion active users every month - or nearly a third of the global population! It is undoubtedly one of the most powerful platforms to promote your brand.
As a result, it's also highly competitive! So to stand out, it's essential to understand how Facebook promotes content on its network.
What is the Facebook Algorithm?
The Facebook algorithm is a set of calculations that Facebook uses to decide which posts users see, and in what order, based on their preferences.
It is no secret that Facebook's number one priority is to keep users engaged across their ecosystem. The algorithm itself is continuously evolving, and a key ranking factor is how likely a user will be to interact with the content itself.
The content displayed is based on various "signals" such as likes, clicks, comments, and shares. So, if you often click on videos of dogs catching frisbees, for example, similar videos will appear in your feed.
As a side note, part of Facebook's algorithm also prefers native content, for example, videos uploaded directly to the platform itself, rather than embedded YouTube videos. Though not impossible, it makes it even trickier to drive traffic to sites and platforms outside Facebook, as they look to keep users on their own platform for longer periods of time. This means you must be even more vigilant in creating engaging content that is far more likely to rank higher, be seen more often and translate to clicks (organic traffic) to your website.
What Types of Content Can Drive Traffic?
Bear in mind that vanity metrics like 'likes' and 'comments' can sometimes feel really good to receive, but they only get you so far. Creating engaging pieces of content that actually translates to conversions is what really counts. There is an endless amount of content that you can use to engage your audience and drive traffic back to your website, but here are some great examples you can use to get the ball rolling:
Blog posts
Help articles
Case studies
White papers
Tutorials
New products and services
Giveaways
Announcements
Newsletter signups
If your social posts are enticing enough, your audience will click through to your website in order to learn more or to see more content.
Strategies for Posting Content on Facebook
Now that you understand the importance of creating engaging content, the next step is to look at some useful strategies that will deliver rock-solid results!
Use Visually Appealing Images and Videos
It is essential to have strong visual content, to ensure you stand out from the crowd. By using more attractive images and video thumbnails, you'll potentially increase customer engagement and the likelihood that you'll show up prominently in their news feeds.
According to research completed by Buffer (and based on the data of 777,367,063 Facebook posts) videos get at least 59% more engagement than any other post type. Additionally, 81% of the top 500 posts of 2018 were videos, while images accounted for 18%.
It's important to bear in mind that publishing poor-quality images or videos could have the undesirable effect of making your brand look unprofessional. So to keep the content looking good, you should follow the Facebook minimum size recommendations:
Facebook profile picture: 180 x 180
Facebook cover image: 820 x 462
Facebook link image: 1200 x 630
Facebook image post: 1200 x 630
Facebook event image: 1920 x 1080
Facebook video: 1280 x 720
Maximum video length: 240 minutes
Facebook ad: 1200 x 628
Facebook video ad: 1280 x 720
Facebook story ad: 1080 x 1920
Facebook group cover image: 1640 x 922
Facebook messenger image ad: 1200 x 628
Alternate Your Post Types
The next traffic-boosting strategy is to alternate your post types. Facebook offers a wide range of options, including:
Photo/video (including live video)
Location check-in
Milestones
Feelings
Notes
Support for nonprofits
Polls
Q&A sessions
Try out as many as you can to see what your audience responds to. By mixing up your post formats, you'll keep your content fresh and may even keep your audience more engaged.
By experimenting with different options and examining the results over time, you can gain an understanding of which types are the most relevant to your audience, drive the most engagement, and bring you the most traffic!
Find Your Optimal Time to Post
As satisfying as it is to have bright and shiny content, it's wasted if posted at the wrong time. If you share your blogging masterpiece when the bulk of your audience is asleep, it'll be lost in the feed by the time they wake up.
Research is abundant regarding the optimal time to post. Many brands see the most reach and engagement when posting Wednesday to Friday from 12 PM to 4 PM. However, every audience is unique, every industry is unique, so general advice can only get you so far.
To get the timing right, use your Facebook analytics to see when your audience is online. You can check peak times of day on your Page Insights.
To access Page Insights, go to your Facebook Page and click Insights in the top menu: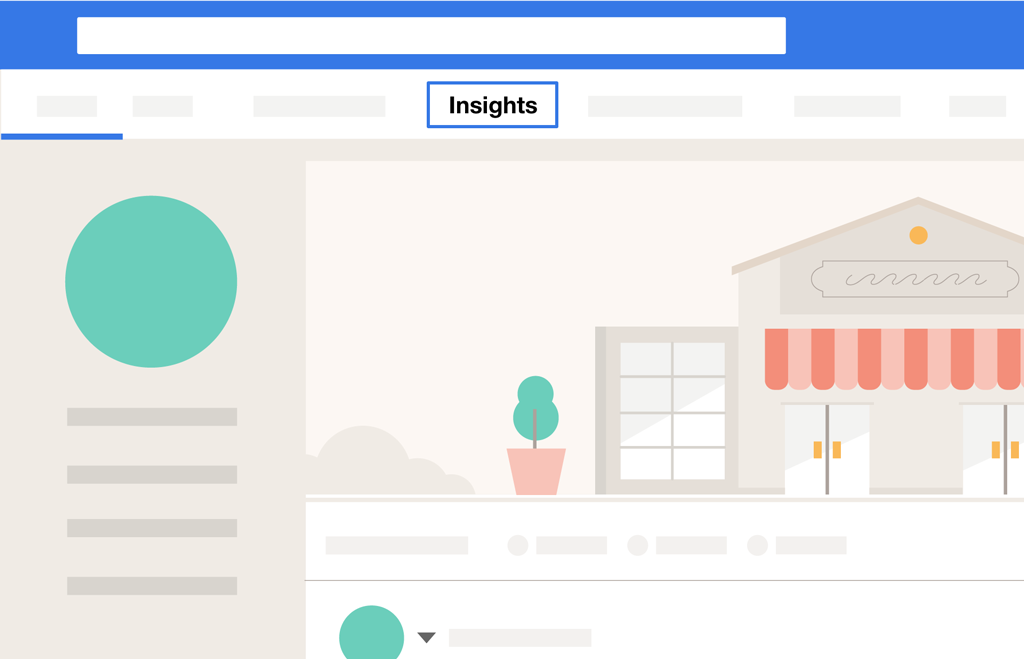 The Overview tab shows your Page Summary. This summary gives you a neat overview of all the metrics on your Page: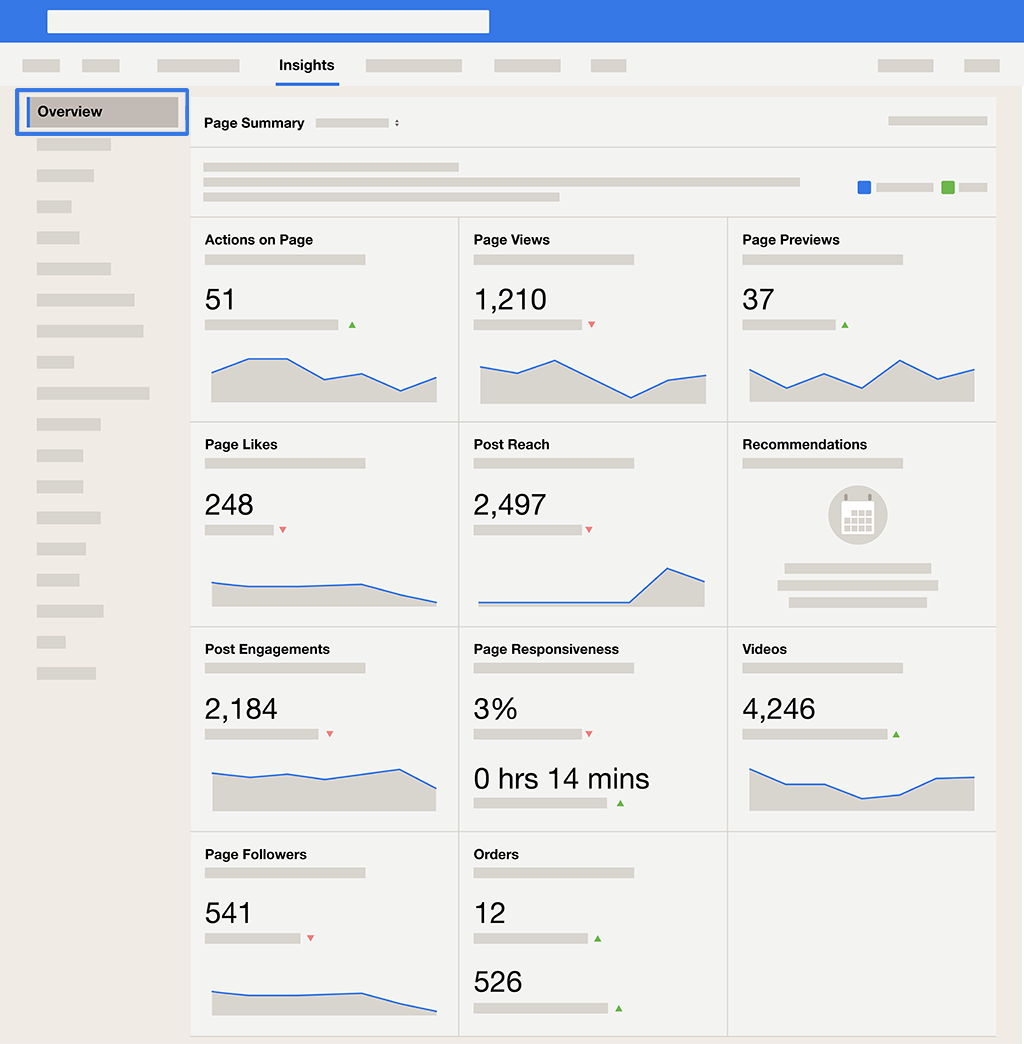 You can see peak days and times for your audience in the Posts section: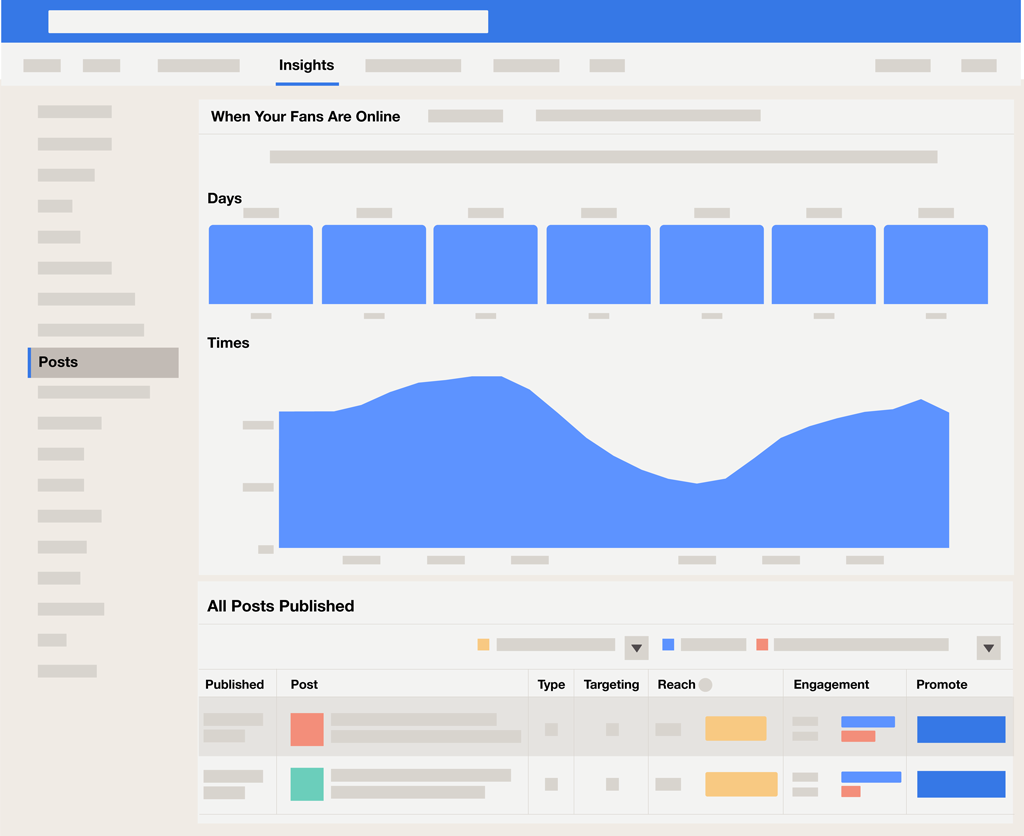 Here you can examine your specific audience statistics for each hour of the day. And you can then determine the most optimal time to post.
If you post your content just before peak traffic hours (e.g. 2:45 PM, if your peak is 3 PM), your content will arrive just as your audience is opening Facebook. This maximizes the chances that your content will appear at the top of their feed - so your engagement potential will be much higher.
Of course, the best advice is to use the data as a tool, experiment regularly, and build your content schedule based on a combination of your research.
Find Your Ideal Post Frequency
Once you know the optimal time to post to Facebook, the next step is to determine how often to post.
Your ideal post frequency will depend on your audience - there's no magic number that works for every brand. Remember the goal is to keep your followers engaged!
If you are posting multiple times per day with high engagement each time, your reach will stay optimal. However, if you observe a drop in interaction after your first post, you may want to consider reducing your frequency and focus more on quality.
The key is to conduct your own research, experiment with how often you post and track the results in your analytics. For example, try posting 5 times one week, 10 times the next, and then 15+ posts the following week. Observe the average engagement at the end of each week, so you can compare each period of time to determine the ideal post frequency for your audience.
Refresh Successful Content
Don't be afraid to refresh old content! If you have posts that have been wildly successful in the past, they are very likely to work again.
Producing quality videos and blog articles is time-consuming, and there's nothing wrong with bringing new life to successful older content.
You may even find that reused content gets even more traction the second time around! Perhaps the headline needed a tweak, the content more refinement, or maybe it was originally posted at the wrong time of day.
Reusing a post is a great way to improve the reach of content that already works. The prize is gaining further insight that will strengthen your overall social media strategy.
Be aware that there are a few things to watch out for when refreshing your posts. Content with a connection to a specific time or event will have likely lost its relevance. Similarly, any mentions of research or statistics will need to be updated. So generally, steer clear of the following:
News and brand updates
Opinions
Statistical reviews
Trends
Potentially re-shareable content should be an authoritative resource, for example:
How-to guides
Tutorials
General tips
FAQ's
To maximize your results, remember to focus on your most engaging content, especially the pieces that drive traffic to your website and increase conversions (leads, sales etc.).
How to Use Your Facebook Group to Drive Traffic
Facebook groups can be a fantastic way to build interest in your brand. When you run your own group, you create a community of like-minded people who are interested in your business and are very likely to grow into a steady stream of traffic for your website.
As a bonus, Facebook's algorithm favors content from groups with high engagement. So if your group is active and thriving, your content will gain further reach, which in turn brings you more traffic! Talk about a 'Win'!
How to Create Your Group
If you don't already have a Facebook group for your brand, it's a pretty straightforward process. Follow the steps below to get started: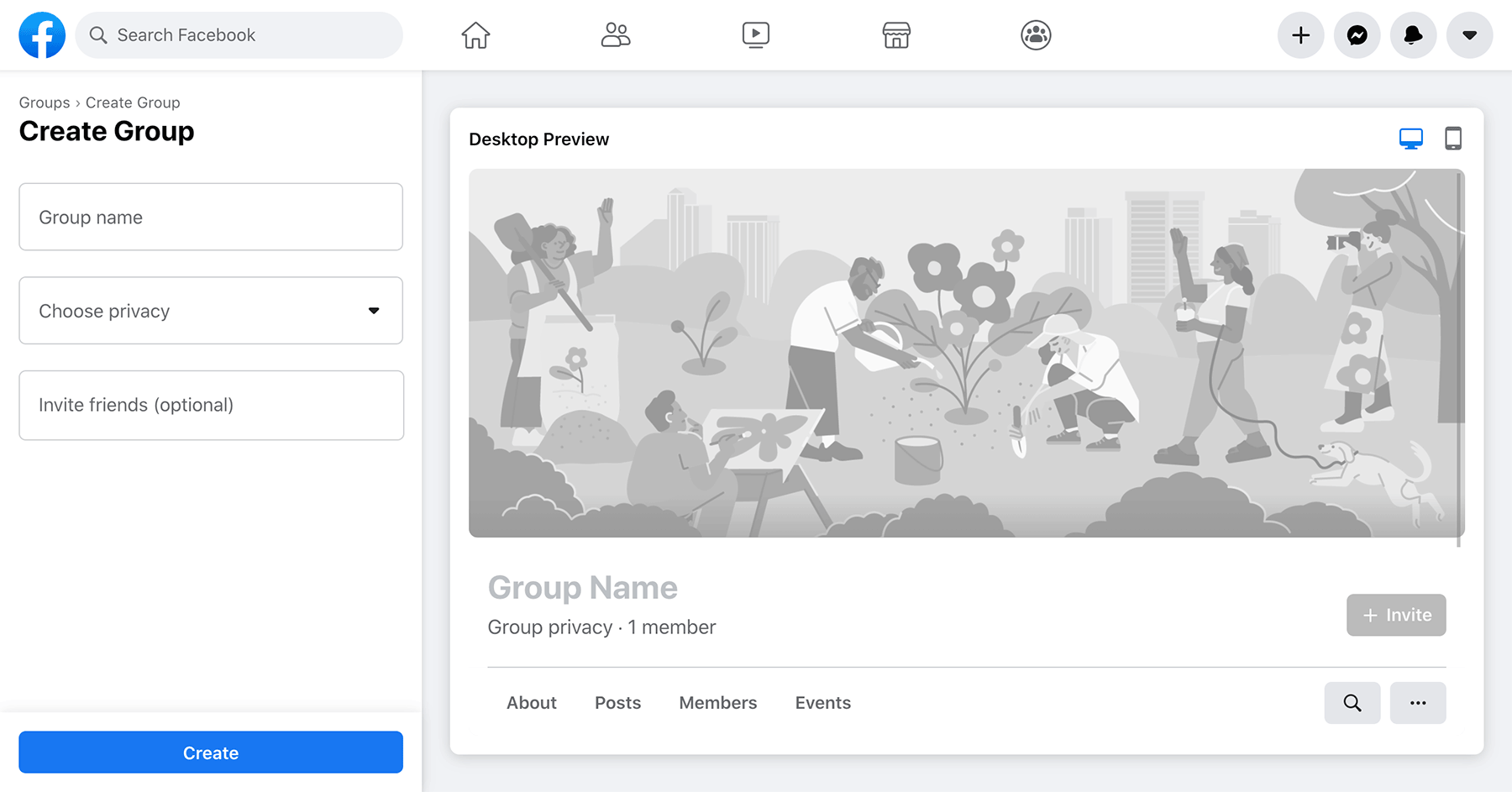 Open up Facebook, click the '+' menu on the top right of the screen and select Group.
Optional: Upload a cover photo — if you have one ready, go for it!
Enter your group name (preferably your business or brand name).
Pick your privacy preference (public for anyone to access, or private to create a "members-only" community).
Optional: Invite people to your group.
Click Create.
It is now time to build your following & drive more traffic to your site!
Tips for Building an Engaged Facebook Group
The ultimate goal of building a Facebook group is to create a captive, qualified and engaged audience that is interested in your brand and will drive traffic to your website in order to convert to sales. In order to do this, you must build a strong Facebook group by leveraging the tools available to you, and creating meaningful content for your target market.
Upload the Perfect Cover Image
A professionally designed cover image will make your brand stand out and be memorable for your audience. It's also important to make sure your image is appropriately sized.
The ideal size for a Facebook group cover photo is 1640 pixels wide by 856 pixels tall (or an aspect ratio of 1.91:1). This size is recommended for the best results across all devices, minimizing the auto-cropping of your cover photo.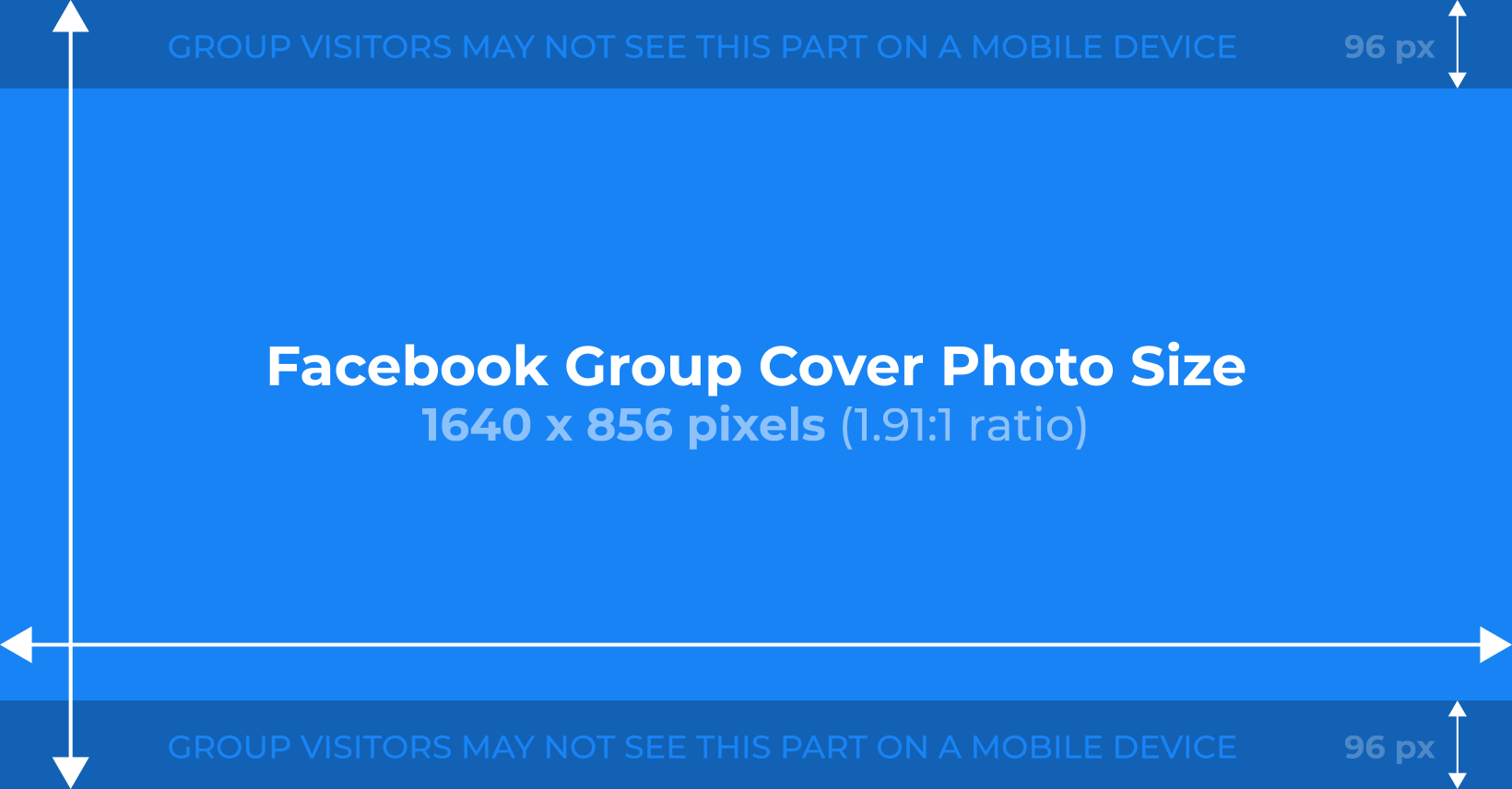 Write a Compelling Description
A well-written description tells people about your brand, sets the tone for your community, and lets your audience know how you can help them.
It is also the perfect time to direct people to your website, or sign up for your newsletter!
Make a Pinned Post
In Facebook groups, you can "pin" a post to the top of your feed, so it's the first thing your new members will see.
A pinned post is an opportunity to welcome everyone to your group and add a call to action which links members back to your website. e.g. "See more information".
Post Content That Benefits Your Audience
As the group owner, it is your job to create an atmosphere and build a sense of community. You can do this by posting content that benefits your audience in various ways. Some examples include:
Free tutorials and how-to guides for your product offerings
Exclusive tips that relate to a blog post
Personal messages & behind-the-scenes insights
Motivational posts to establish yourself as a thought leader in your industry
By giving your audience continuous value, they are far more likely to engage with your brand and convert into traffic for your website.
Find Group Members
How do you get people to join your group?
An easy first step is to make an announcement to your email list. Send out an email announcing the group and invite everyone to join in. Always link to your group in your newsletters, too. You can also add a prominent link on your website to promote your group and advertise it on all your social media channels. A call to action at the end of each blog post is also a great idea - be sure to tell your readers how they benefit from joining.
Give Your Members Something Special
By offering exclusive content, you give your members a reason to consistently check-in & engage. Some examples are Q&As, AMAs, and invites to webinars.
Don't Neglect The Housekeeping
For your group to flourish, it needs regular maintenance.
Check-in frequently to answer questions, add members, remove spam, and moderate any flagged content. It can take some work, but it's worth it when you have a loyal audience all in one place! And you can always share the load by assigning moderator duties to a willing colleague.
How to Leverage Facebook Groups That You Don't Own
There is an endless number of Facebook groups for every topic imaginable. By performing a search in the group section, by using relevant keywords, you'll find numerous quality groups you can join.
By becoming a member of leading industry-related groups, you'll have the opportunity to post and promote your brand. Be sure to read the group rules when you join, before you start promoting your business.
Find Out The Group "Promo Days"
Most groups have appointed specific "promo days" when you are allowed to promote and link to your website. If you promote yourself on non-promo days, you risk getting banned - don't do it!
Participating in promo days is a highly effective strategy to get people to your website. Especially when promoting to large groups with tons of reach.
The owner will usually specify which days they allow for promotions, in the group description, or a pinned post.
On the non-promo days, you can still gain traffic by participating in conversations and giving your expert advice by responding to member questions.
Are You Ready to Get More Traffic?
It is time to make Facebook work for your brand! To grow your following, figure out what content is the most engaging and become active in your community.
Keep trying new ideas, tinkering with your strategy, and publishing great content! Over time, you'll build up a valuable resource that consistently sends engaged traffic to your website.
Want to learn more about Facebook? This article continues Web Hosting Canada's ongoing series on Facebook marketing, strategy and tactics. Follow us on Facebook to get updated when we post our next guide: How (and when) to Boost a Post on Facebook.
---
---
Web Hosting Canada
manages fast and reliable online infrastructure with 24/7 support.
Learn more about WHC
Also on the WHC Blog

WHC is now certified as a Great Place To Work!
Web Hosting Canada is now a certified Great Place to Work! Following a thorough and independent analysis conducted by Great Place to Work® Institute Canada. This certification is based on direct feedback from employees,...
Read full article

Three reasons your website visitors will trust a .CA domain
Did you know, even a tiny top-level domain (TLD) name can contain information about your website that would be useful to visitors? A domain extension can indicate your geographical location, purpose or even a little bit of...
Read full article
1
How can we help?
How can we help?
Our experts are available 24/7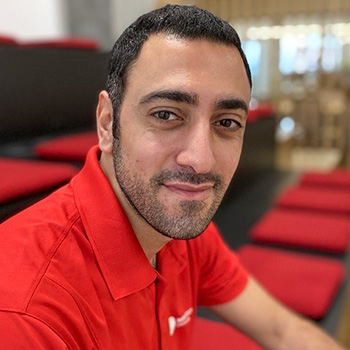 Chat Now
Questions?
Our friendly customer service team is available right now.
Start Live Chat
LIVE CHAT »