WordPress 6.0 is here!
It's that time of the year again for all WordPress users… WordPress 6.0 "Arturo" has arrived! This version is named after the highly influential jazz musician Arturo O'Farrill. From afro-cuban beats to latin jazz, this Grammy-winner legend has 15 albums to choose from. It's just the perfect musical backdrop as you explore this major update and its new developments.
In this article, we take a look at what's new with WordPress 6.0. Let's go!
If you have a complex website that uses several plugins, we recommend holding off for at least a few weeks before upgrading to 6.0, as major upgrades may break some plugins/themes.
What's new?
WordPress 6.0 brings a fresh round of changes that further enhance the whole site editing experience, giving you the power to manage your entire site directly from the WordPress Admin area.
Here are some of the new enhancements…
'One-click' theme switcher
Now you can easily switch between styles right from your theme editor. If you're working with a block-based theme, you'll find the Style button at the top right corner of your page editor; click on Browse styles to see the available styles for your theme.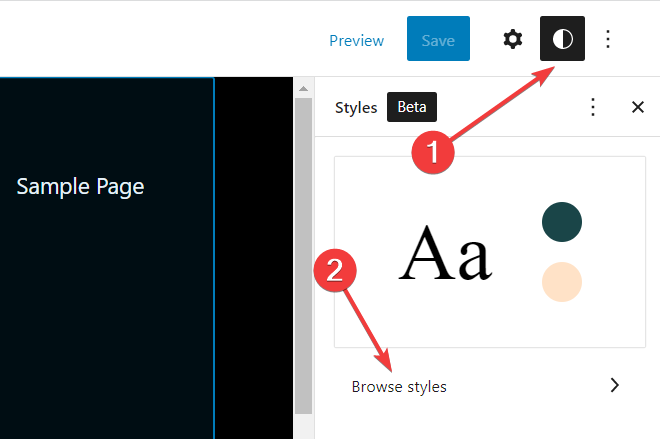 Export your theme
You can use the Theme Editor to build your own templates or add custom layouts and styles. But what happens if you want to copy them over to another WordPress site? Easier said than done? Not any more! WordPress 6.0 lets you export your theme with ease.
Simply click on the Options menu (the 3 dots), then Export to download your theme.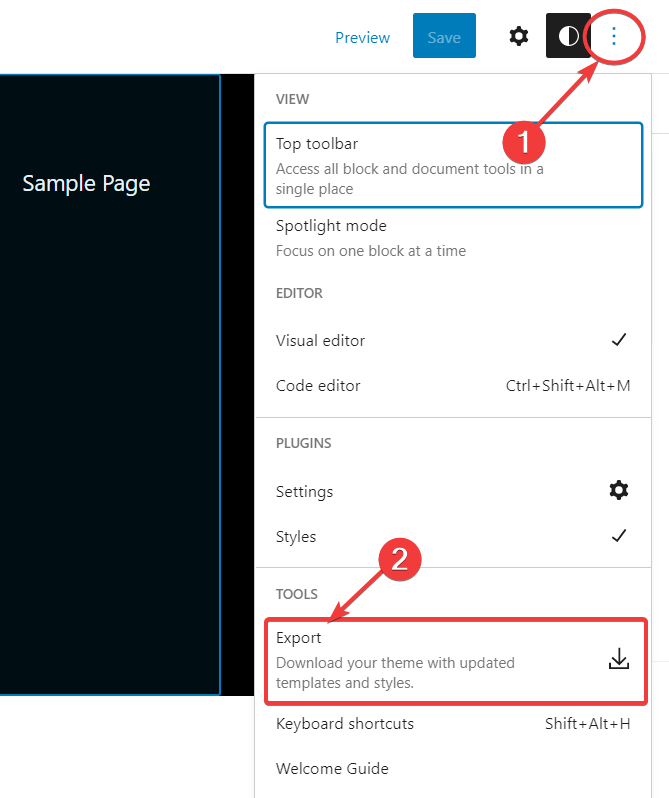 You can now install this theme onto any other WordPress website you manage! All changes made to the original theme will be carried over.
Brand new blocks are here
The following new blocks are available for use:
The author's biography block
A new author biography block can now be used to add an author description under your blog posts conveniently.

The avatar block
Want to add an avatar alongside your author biography? Use the new avatar block! Add custom photos for each user if you have multiple blog contributors.

The 'read more' block
A 'read more' block has been created that lets you modify its text, background and border styles. Now you can easily make your button links really stand out!

The comments block
Use the new Comments Query Loop block to define your comments section. A range of sub-blocks are available (comment author, avatar, comment content, edit link, etc.) should you wish to use them.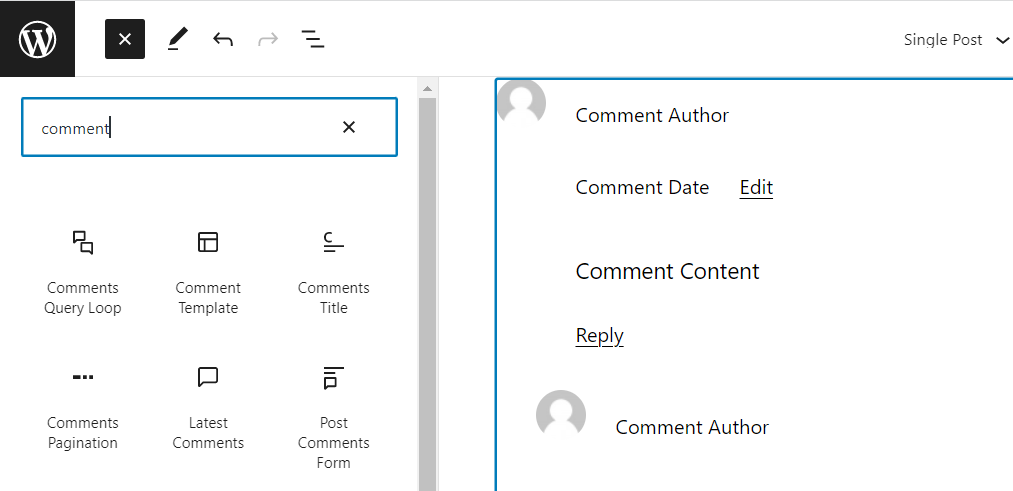 Block editor changes
WordPress 6.0 users will notice the following changes to the main block editor:
Use a featured image in the cover block:
Now, you have the option to set a post's featured image as its cover image. Read up on the cover block.
Responsive block changes:
You can now control how you want blocks to display on various screen sizes. For example, if you have several blocks grouped together, you now have the option to display them as a row or a stack.
Ability to lock reusable blocks:
If you have multiple users working in your WordPress admin area, you may have noticed that other users can edit your reusable blocks. With this update, you can lock a block so other users can't directly edit it. You can now control the permissions and apply edit restrictions as required.
Easier text selection:
Until now, selecting text across multiple blocks has been tricky. Often all block text is selected when trying to make a partial selection. The new update has fixed this issue.
Accessibility improvements
Web accessibility, or eAccessibility, is the inclusive practice of ensuring no barriers prevent interaction with, or access to, websites on the World Wide Web by people with physical disabilities, situational disabilities, and socio-economic restrictions on bandwidth and speed. — Wikipedia
We're delighted to deliver the good news on this front! WordPress 6.0 has added several new enhancements designed to improve the user experience for those with accessibility needs.
Here are some of the more significant changes:
Tabbing between page elements has been improved
Text label readability has been improved on small screens
Image ALT text (the text that displays if an image doesn't load) will be set to the Post title, if no ALT text is given
Search results are now correctly announced in the block manager
For a comprehensive summary of the updates, see accessibility improvements in WordPress 6.0.
Upgrading to WordPress 6.0
If you have a complex website that uses several plugins, we recommend holding off for a few weeks before upgrading, as major upgrades may break some plugins/themes.
When you're ready to upgrade, you can do so from either your WordPress dashboard or cPanel. See Manually Update WordPress and WordPress Plugins for more information.
If you use one of our Managed WordPress plans, you can create a staging site to test out the new version. This will create a copy of your live website in a separate staging environment for testing (that won't affect your production site).
Ensure you have a working backup before making any changes. This way, you can quickly revert to your previous installation if any problems occur.
Conclusion
We hope this article gave you some insight into the exciting new changes in WordPress 6.0. Don't forget to stream one of Arturo's albums while you browse all these updates.
If you have any questions about how the upgrade may affect you, feel free to contact our support team, who will be happy to assist.
---
---
Web Hosting Canada
manages fast and reliable online infrastructure with 24/7 support.
Learn more about WHC
Also on the WHC Blog

Create a killer landing page (that converts)
Landing pages play a key role and are a critical part of most effective digital marketing campaigns. If you want your business to grow and thrive online, you need to know how to create high-converting landing pages that turn...
Read full article

Email Marketing with MailerMojo
Email marketing is the art of sending value-packed emails to connect with your audience and market yourself, your brand or your biz. It's also the most powerful marketing strategy AND the most cost-effective. Done right,...
Read full article
1
How can we help?
How can we help?
Our experts are available 24/7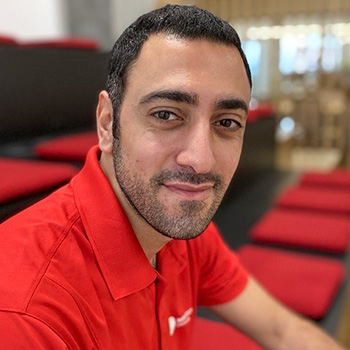 Chat Now
Questions?
Our friendly customer service team is available right now.
Start Live Chat
LIVE CHAT »