Increase your Google Visibility with Structured Data & Rich Results
Looking to improve your visibility on search engines like Google?
Rich Results may help you do just that.
What are Rich Results?
Rich results are visual pieces of information that Google and other search engines show on search engine results pages (SERPs). In addition to the normal search results you may already be familiar with, they highlight useful information to the website visitor.
Here is an example of a search result listing for a poutine recipe.

You can notice that there's some extra information that you don't see on most search results. The rating, prep time and calorie count are outlined by Google in what is referred to as rich results.
Other types of rich results include:
Products
Businesses and organizations
Recipes
Events
Music
Video content
And more!
Why are they important and how did they get there? Let's find out!
Why are Rich Results Important?
Rich results provide additional visual information in search results, helping your listing stand out from the competition on Google's search engine results pages.
This additional information increases the effectiveness of your listing and helps highlight important aspects of your products, services, articles, or events. By doing this, you're also improving the quality of the traffic coming to your site. High quality traffic generally translates into fewer visitors leaving your website right after accessing it, commonly referred to as bounce rate. By reducing your bounce rate, you also end up improving your site's ranking on search engines over time.
In other words, while rich results do not directly affect where you rank on the search results, the information you're highlighting can help attract more clicks, more visitors, and lower bounce rates, thus indirectly boosting your rankings.
How to get Rich Results with Structured Data
Google will attempt to showcase additional pieces of information using rich results whenever it finds useful content on your website to display to the searchers. You can help Google better understand your content by using structured data (also referred to as schema markup or markup data). Structured data is information added to the code of a webpage that helps search engines understand what the page is about. So it's in your best interest to use structured data whenever possible!
Structured data syntax is thoroughly documented on schema.org. The site can be quite technical for those unfamiliar with coding (and even for those who are), but luckily there are various tools available to help you create structured data without needing to write code.
While structured data helps search engines understand many things about a website, not all the markups will produce rich results on Google's search results. In this article, we'll be focusing mainly on structured data that can help improve your search results. However, even without resulting in rich results, structured data helps search engines know more about your site and index it more effectively.
Creating and Adding Structured Data to Your Website
There are many convenient tools to help you add structured data to your site.
We will be using Google's Structured Data Markup Helper, which will generate the structured data to be placed on your site. This is a great deal easier than sifting through schema.org where the information is given to you in a useful but technical format.
With the Markup Helper you will be guided through the process of creating the proper script for your structured data/schema markup. There are three stages to the process. Let's go through it to show you how to add review data to your website.
To use the Helper tool you will need to have an account in Google's
Search Console
.
Step 1: Selecting the Type of Markup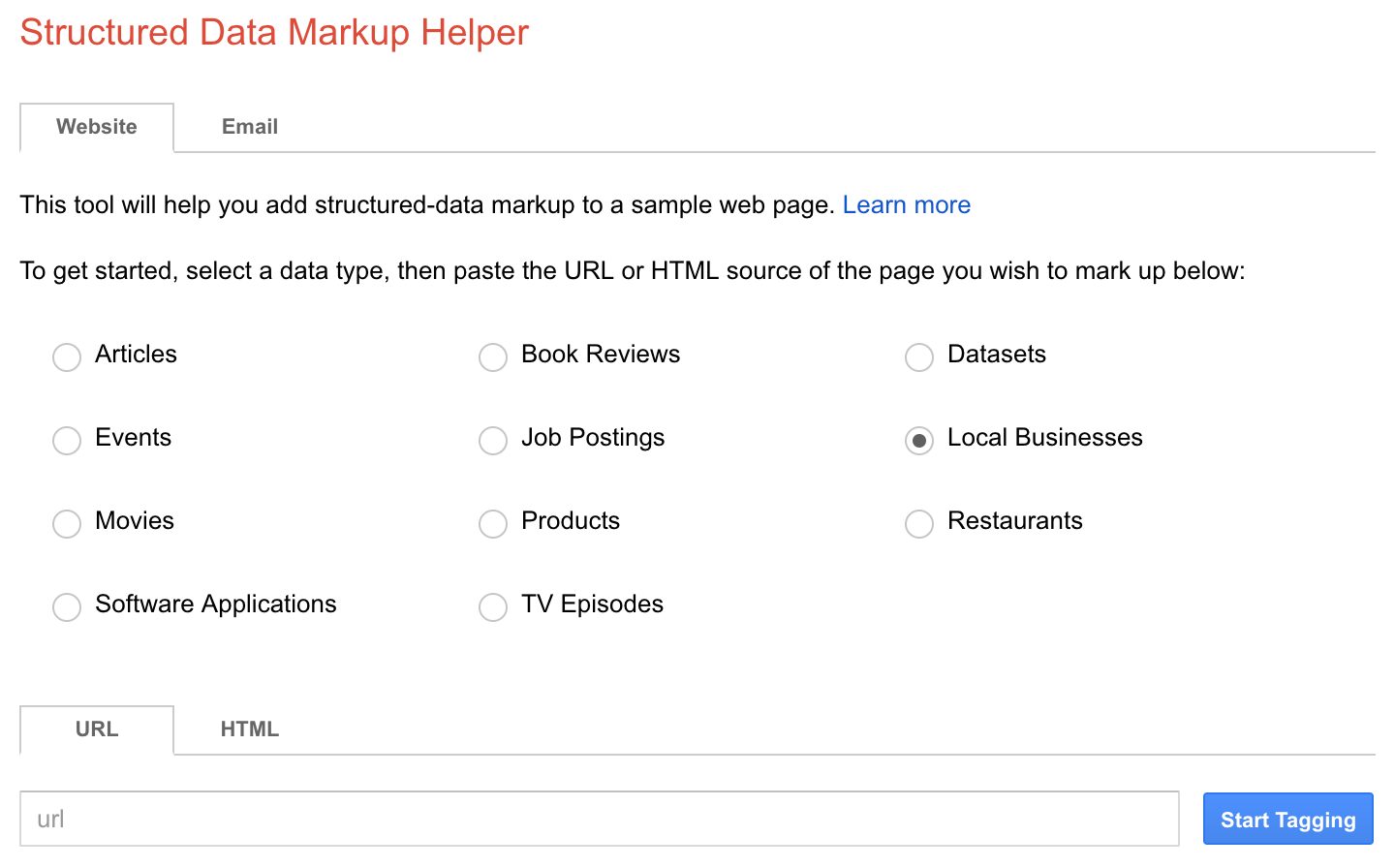 At the first stage you will want to select local business, add the homepage of your website to the URL address bar at the bottom and click start tagging.
Step 2: Creating the Structured Data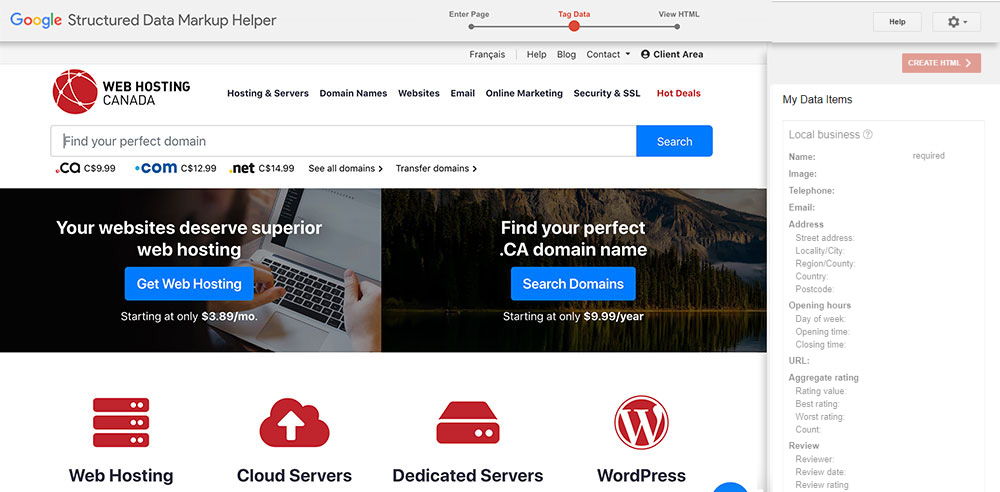 You will be presented with your homepage and a panel on the right-hand side.
To fill in the form you can:
A) Highlight a part of the website and a small panel with appear providing options on what the highlighted information should be categorized as.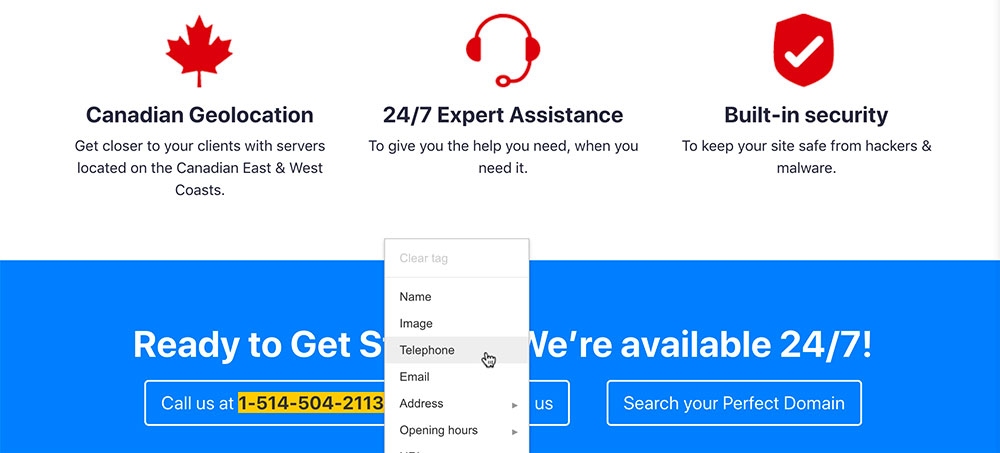 When you have made a selection the information will appear on the right hand panel.
B) If you do not have the information on your homepage, then you can still add it by clicking the Add missing tags button at the bottom of the right-hand panel.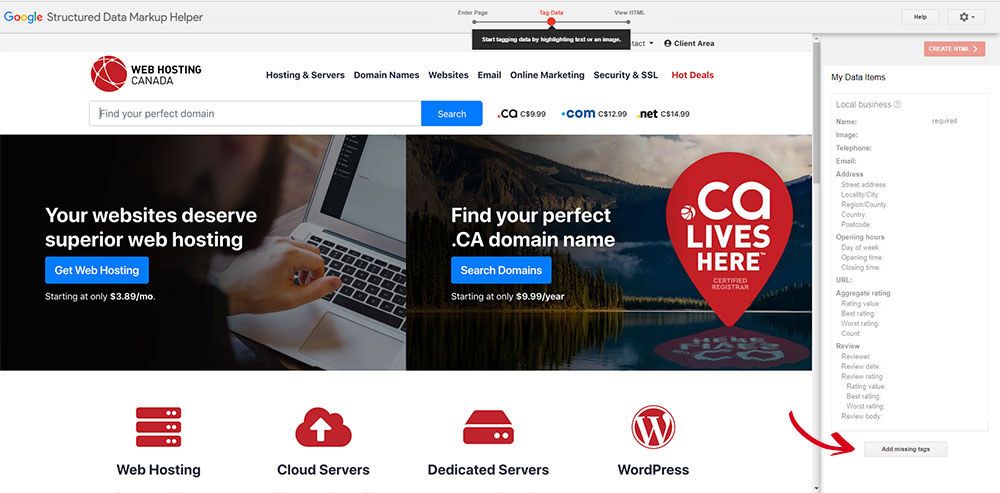 As we want to have an aggregate review (the average of many reviews) rich result, we will click Select tag type, scroll down to Aggregate rating and select Rating value.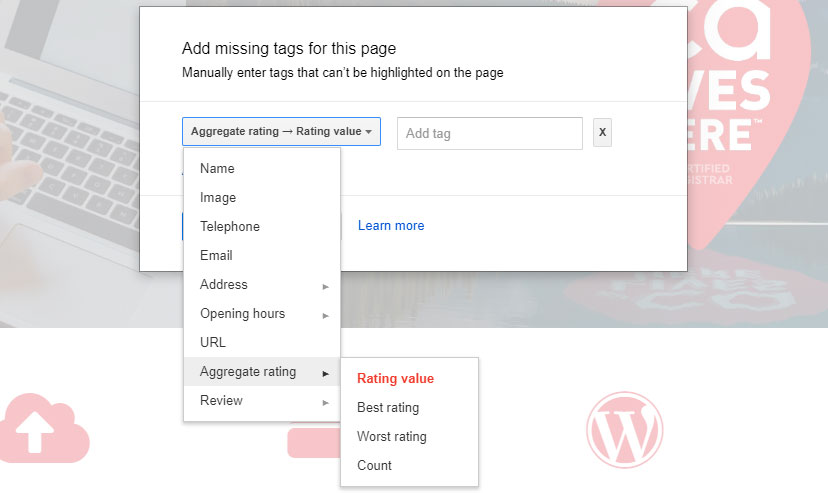 WHC has an aggregate rating of 4.9 out of 606 Google reviews (at the time of writing this article), so we will add 4.9 to Rating value. Then we will select the Count and add 606. Once you click Save the items should appear on the right hand panel.
Note: If the tags do not appear, try adding a piece of information by using the method A) above- highlighting a part of the page and selecting the correct tag placement - first and then use the add missing tag method.
Once you have filled in the information, we recommend filling in as many fields as possible, click Create HTML at the top of the right hand panel.
Step 3: Generating the Script
At this stage you will have generated a script, courtesy of the Markup Helper. You may either copy or download the script, and then add the script block below to the head section of your HTML, as instructed by Google.
Once you have added the code you can test it to see if it is working properly with Google's Structured Data Testing Tool.
If you do not feel comfortable manipulating HTML code there is an easier method which avoids that step, using Google's Data Highlighter.
Adding Structured Data with Google's Data Highlighter (no coding required)
Google offers a tool to add structured data to your website without needing to touch your site's coding, called the Data Highlighter. Using this tool, the markup will only be visible to Google, and will not be seen by other search engines like Bing. We recommend you only use this tool if the previously discussed methods don't work for you.
You will find the Data Highlighter tool in the left hand side under search appearance within Google's Search Console.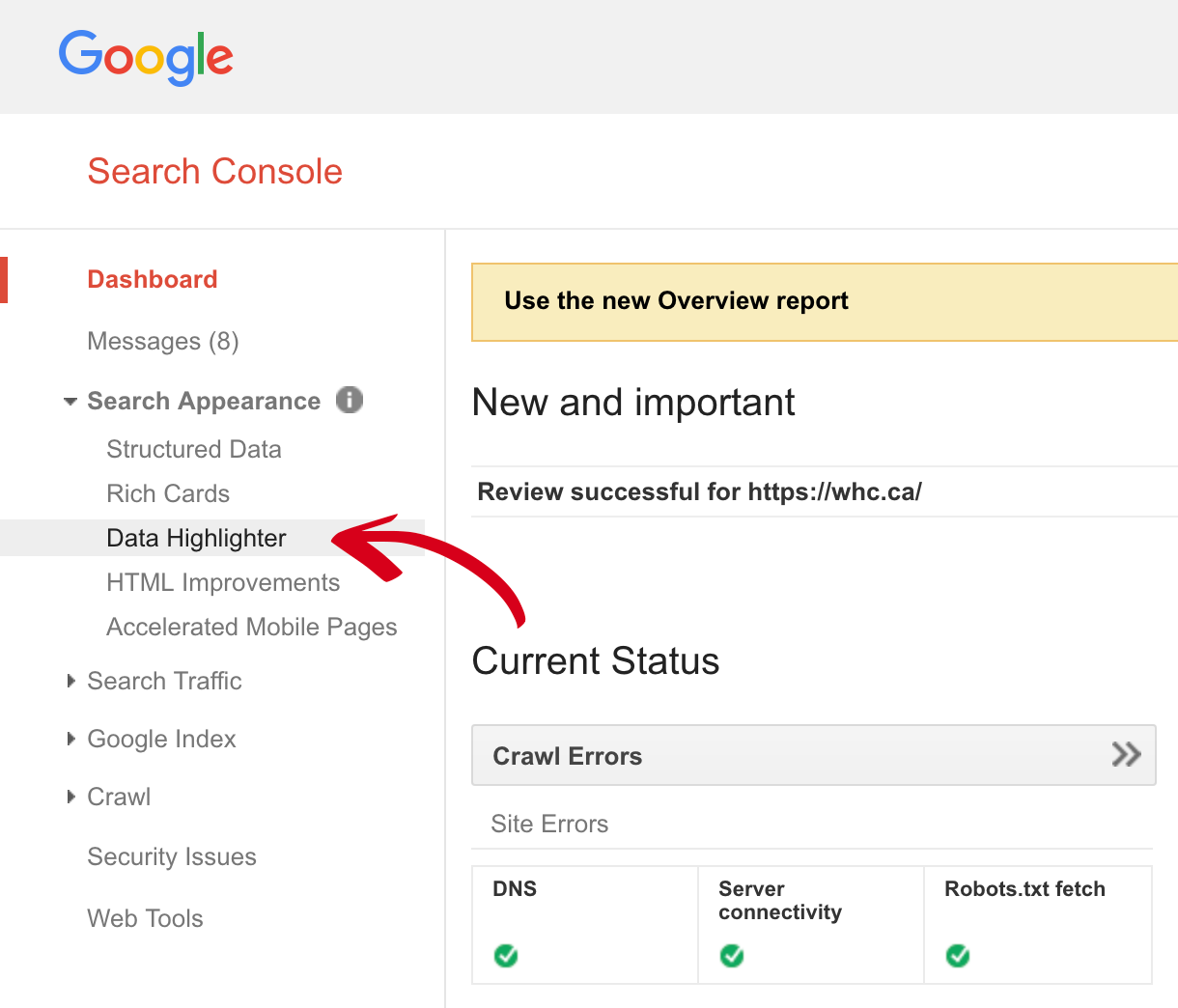 As of the writing of this article, the data highlighter tool does not seem to be accessible via the new interface of Google Search Console.
To get started click the Start Highlighting button.
You will be asked to add the URL of the page you wish to highlight, the type of information you want to markup, and if the tool should try to markup similar pages. The markup similar pages option is a great tool if you have many pages that are the same format, such as blog posts.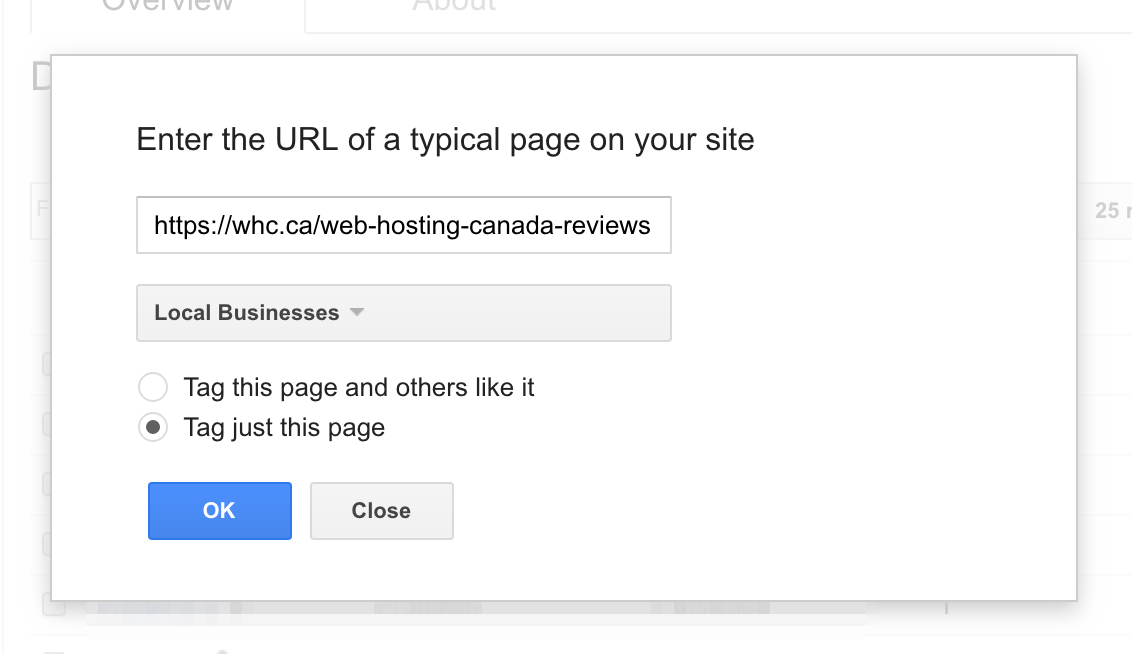 To add the review markup, enter in the page where the information is located, select Local Business, select Tag just this page and click OK. The interface will be nearly identical to the Google Structured Data Markup Helper.
Scroll over the rating, in the dropdown that appears go to average rating and select rating.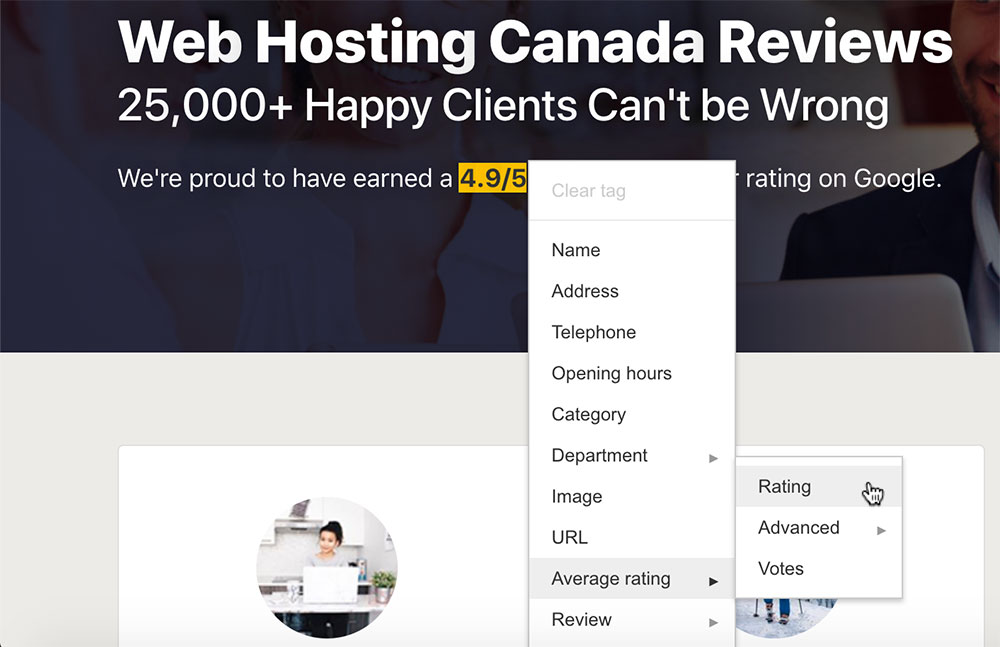 The information will appear on the right hand panel.
Perhaps you want to add the review markup to your homepage but you do not have that information on the site (nothing to highlight). No problem!
Make sure that any required fields remain blank and click Publish in the upper right corner.
A popup will appear asking if you would like to add missing tags.
Click Add missing tags and you will be able to fill in information as with method B mentioned above, using Google's Structured Data Markup Helper.
When you are finished, click Publish and the process will be complete. We highly recommend filling in as much information as you can, not just the review markup.
The Markup Helper and Data Highlighter are great tools, but they do have their limitations. For instance, they default with structured data specific for local businesses, which may not be as useful for you if you are trying to promote an international corporation.
Test Your Structured Data and Analyze Your Competitors
Need some inspiration for which structured data you should add? Consider using Google's Structured Data Testing Tool to look at any website and see how they implemented their structured data. Try analyzing your competitors to see if their structured data is different from yours.
If it is, then you can use the tool to understand how the competition implemented their structured data and use it as a reference on how to improve your own structured data.
After looking at some competitor's websites you may notice that the format of the structured data isn't always the same. This occurs because there are technically three different ways to format the data:
These are just different ways to achieve the same results i.e. adding structured data to your site. However, by default Google's tools recommend using the JSON-LD format. Unless you have a particular reason to use the other formats, it is easiest to stick to JSON-LD.
Get Even More Visibility With the Knowledge Panel
When you initiate a search on Google, in addition to the search results, you may also see information pertinent to a business or topic in a box that appears to the right. This section is called the knowledge panel and is intended to help customers quickly learn more about your business.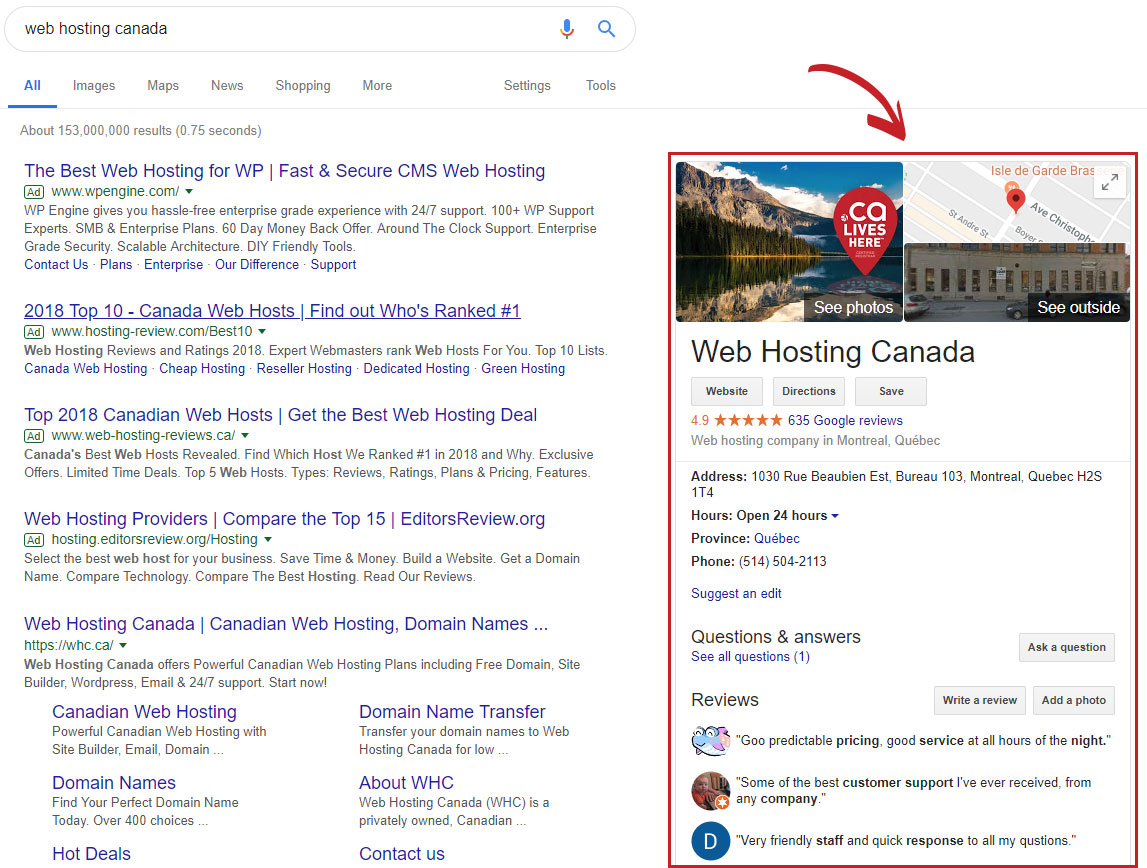 Whether or not your business will have a knowledge panel can be determined by a variety of factors, such as relevance, physical proximity, the prominence of the business and structured data.
Tip: To improve your results in Google and help you obtain a knowledge panel, make sure to create a
Google My Business
account. This helps Google know more about your website and increases your business' chance of having its own knowledge panel.
Having a knowledge panel is great for your business in two ways:
It takes up a significant amount of real estate on a search engine results page which is hard for anyone to ignore. Just like a billboard at a busy intersection, it helps you get noticed.
The knowledge panel provides a great deal of information to help potential visitors understand what your business does and why you are awesome. Hours of operation, reviews, commonly asked questions, and more information are there at a glance. The knowledge panel can even show articles you've recently published so they get even more exposure!
How Fast will Google Update My Listing?
It generally takes 2-3 weeks for Google to display your structured data as rich results. Even so, there is no guarantee that Google will display the information.
That being said, the use of structured data is considered best practice. Even if it doesn't end up as rich results, it helps search engines better understand and index your site. Structured data should be something you always consider adding throughout your site, when pertinent. As searchable content continues to evolve to include audio and video, the importance of structured data will only continue to grow, so don't get left behind!
Happy Hosting,


---
---
Web Hosting Canada
manages fast and reliable online infrastructure with 24/7 support.
Learn more about WHC
Also on the WHC Blog

Comodo CA is Now Sectigo
Web Hosting Canada has proudly partnered with Comodo for many years as its primary SSL Certificates provider. SSL Certificates are used to provide trust and encryption for websites and their users online. As Comodo CA,...
Read full article

WordPress 5.0, Codename Bebo, is Here!
WordPress 5.0 is finally here. Released on Dec 6th, 2018, this long-awaited update comes with many improvements and most of them are thanks to the new editor, codename Gutenberg. What Is Gutenberg? Gutenberg...
Read full article
1
How can we help?
How can we help?
Our experts are available 24/7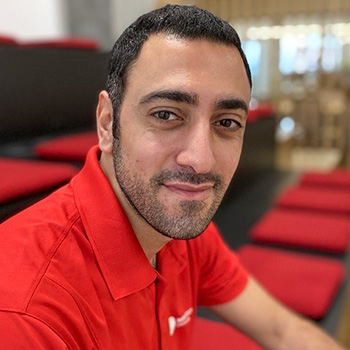 Chat Now
Questions?
Our friendly customer service team is available right now.
Start Live Chat
LIVE CHAT »