Introducing cPanel 98 & 100
What is cPanel? If you're using Web Hosting Canada's web solutions, then you likely know that it's the company behind the human-friendly control panel you use to manage your web services. cPanel, being the world standard in web hosting control panels, is always hard at work bringing exciting new features and enhancements to the popular web-based interface.
Both cPanel versions 98 & 100 are now in stable release! Let's take a look at what's changing with these updates.
What's new in cPanel 98?
Each cPanel release includes several improvements designed to benefit both users and administrators alike. Perhaps the most noteworthy addition to cPanel 98, is the introduction of the new 'Jupiter' theme.
An all-new 'Jupiter' theme
This theme is still in early developmental stages, and therefore is not available on our
Web Hosting
or
Reseller Hosting
plans. If you are on a
Cloud
or
Dedicated Server
plan and would like to try it out, we strongly recommend conducting any testing in a non-production environment.
The cPanel team has been hard at work building the Jupiter theme, and it shows! They've developed a theme that is both familiar to experienced users, and much easier to use for new users.
With this in mind, there are now two main pages accessible from the main menu: the Tools page and the Solutions page.
The Tools page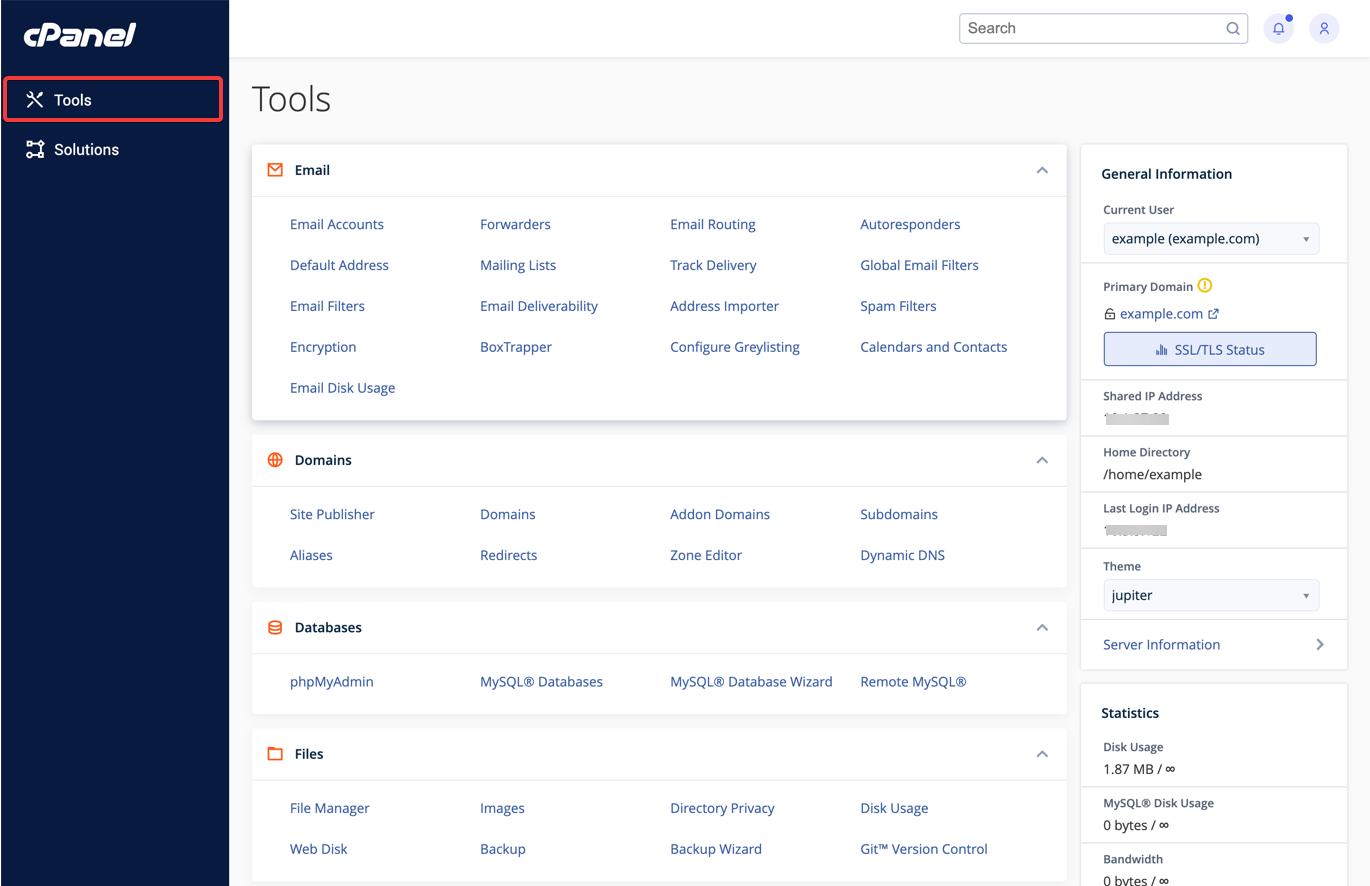 The Tools page is the default homepage that opens up when you log in to cPanel. Its layout will be familiar to existing users. As with the current default Paper Lantern theme, you can drag and drop the groups and arrange them into whatever order suits you best. It also maintains the right sidebar view containing General Information, Server Information, and server Statistics.
The Solutions page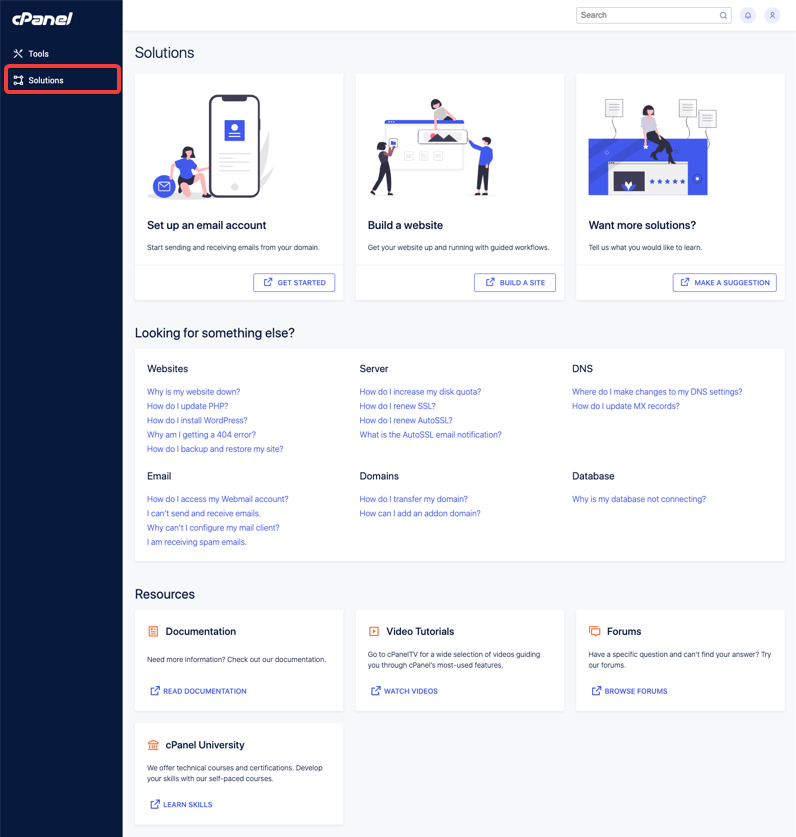 The Solutions page is now also accessible via the main menu. It has been created to make it easier for new users to navigate through cPanel.
Here you'll find groupings of the main categories within cPanel, with a number of common questions listed under each. Clicking on any of these links will connect you to the relevant documentation to help you find the solution for your issue. For more information, links to the official cPanel Documentation, Video Tutorials, Forums & cPanel University have been included under the Resources section.
The header at the top of both the Tools and Solutions pages contains the search bar, allowing users to search for any tool by name. User settings such as account preferences, passwords & security, languages, and contact information are accessible via the Profile icon.
To take a deep dive into the specifics of version 98, check out the official release notes.
What's new in cPanel 100?
The cPanel version 100 update brings enhanced customization options, a new guided solutions interface, as well as several features for server administrators.
The ability to upload custom logos and choose custom colors in the cPanel interface has now been added. This will no doubt please resellers and administrators who may be looking to customize the theme to match their own company branding.
The 'Jupiter' theme is still in early developmental stages, and therefore is not available on our
Web Hosting
or
Reseller Hosting
plans. If you are on a
Cloud
or
Dedicated Server
plan and would like to try it out, we strongly recommend conducting any testing in a non-production environment.
For newer users, a 'Guided Solutions' section has been added to the interface. This introduces key features and provides walkthroughs for users looking to carry out basic tasks, and also provides steps to use some of the more advanced tools. The idea is that with an improved UI, cPanel will be much easier to use for new and experienced users alike.
To read up on version 100 in more detail, see the official release notes.
New features for administrators
If you manage a Reseller Hosting plan or are a Cloud or Dedicated Server administrator, these updates come with the following additions:
cPanel & WHM can now be installed on Ubuntu LTS 20.04. Note this is experimental with limited functionality in this release
You can now enjoy everything offered by MariaDB 10.6, with full support being added.
'Account Enhancements' have been added to the WHM interface to manage access to third-party applications
'Manage API Tokens' has been added to WHM to increase security by restricting API access to specific devices and/or servers
Web Hosting Canada's cPanel Hosting
WHC provides cPanel hosting for all its Web, Cloud, and Dedicated hosting services. As official cPanel partners, we are also very knowledgeable in both the functional and technical aspects of cPanel and WHM. All Web Hosting Canada support agents must obtain cPanel certifications to ensure that they meet the necessary standards for support and customer care when dealing with various issues that may arise.
Should you have any questions or concerns about how the cPanel upgrade may affect you, feel free to contact our support team, who will be happy to assist.
---
---
Web Hosting Canada
manages fast and reliable online infrastructure with 24/7 support.
Learn more about WHC
Also on the WHC Blog

WordPress 5.9 has arrived
WordPress 5.9 "Joséphine" has arrived! Named in honor of acclaimed international jazz singer Joséphine Baker. As this is a major release, WordPress users will notice a lot of new developments. Let's...
Read full article

Introducing .CA Domain Backorders
We just launched our new Backorder Tool for .CA domains! Domain Backorders are now called Domain Auctions, see this blog post to learn more! That's right! You can now secure valuable .CA domains before they become...
Read full article
1
How can we help?
How can we help?
Our experts are available 24/7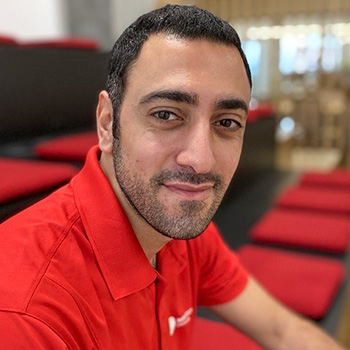 Chat Now
Questions?
Our friendly customer service team is available right now.
Start Live Chat
LIVE CHAT »