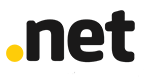 Find Your .NET Domain Name
Looking to improve your .NET gain?
What is .NET ?
Originally created to promote the formation of networks, .NET has become the domain extension for technology wizards and online personas. The 2nd most used domain type after .COM, .NET holds a lot of weight.
Why choose a.NET domain?
Great for new websites or if you want to secure your name from the competition. Benefits:
Provides a high level of trust among visitors as it is one of the first domain extensions.
Allows for unique domain extensions that are easy to remember.
Has a higher availability than .COM, so you can find the name you want.
Suggestions for using a .NET domain
Great for both individuals and businesses alike.
Lends itself to interesting domain names, e.g. "onthe.NET", "aroundthepla.NET", "sciencemag.net", etc.
Perfect for websites that deals with technology or development.
.NET Domain Pricing
Term
Register
Transfer
Renew
1 year

C$ 13.99

$ 19.19

C$ 13.99

$ 19.19

C$ 19.19
2 years
C$ 33.18
C$ 38.38
3 years
C$ 52.37
C$ 57.57
5 years
C$ 90.75
C$ 95.95
.NET Domain Features
Web Hosting Canada gives you more. With each new domain name registration, you also get:
Domain Essentials
Complete DNS Control
Easily change nameservers, or create custom A, CNAME, TXT records using your Domain Manager.
Domain Forwarding
Point your domain to another website in just two clicks
Domain Locking
Protect your domain from unauthorized transfer with our security lock
WHOIS Information Management
Update your domain's contact information with ease, to ensure it's always up-to-date
Domain Addons
ID Protection
Hide your personal information from prying eyes to help reduce spam, fraud and identify theft.
Domain Manager Pro
Protect your domain with more powerful Anycast DNS to help withstand large-scale attacks and increase uptime. Starting at 0.99$/mo.

Find your perfect .NET domain today.