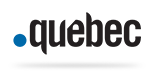 Find Your .QUEBEC Domain Name
Encourage local commerce with .QUEBEC
.quebec
Transfer your domain
Register bulk domains
What is .QUEBEC?
The Europe of North America, Quebec is an untapped market for many businesses. Get ahead of the curve with a .QUEBEC domain extension.
Why choose a .QUEBEC domain?
Indicate to visitors that your website is culturally specific to French Canadians. Benefits:
Promotes trust among Quebec audiences.
Stands out in the mind as it is unique and memorable.
Has a higher availability than .COM, so you can find the name you want.
Signifies a culturally rich website which generates interest both inside and outside the province.
Who can register a .QUEBEC domain?
There are no real restrictions except that registrants will be asked to give a brief explanation of the intended use of the website.
.QUEBEC Domain Pricing
Term
Register
Transfer
Renew
1 year

C$ 29.49

$ 39.49

C$ 29.49

$ 39.49

C$39.49
2 years
C$68.98
C$ 78.98
3 years
C$108.47
C$118.47
5 years
C$187.45
C$197.45
.QUEBEC Domain Features
Web Hosting Canada gives you more. With each new domain name registration, you also get:
Domain Essentials (included!)
Complete DNS Control
Easily change nameservers, or create custom A, CNAME, TXT records using your Domain Manager.
Domain Locking
Protect your domain from unauthorized transfer with our security lock.
WHOIS Information Management
Update your domain's contact information with ease, to ensure it's always up-to-date
Domains Addons ($)
Domain Manager Pro
Protect your domain with more powerful Anycast DNS to help withstand large-scale attacks and increase uptime. Starting at 0.99$/mo.