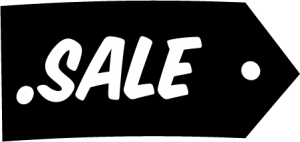 Find Your .SALE Domain Name
Get it on .SALE!
.sale
Transfer your domain
Register bulk domains
What is .SALE?
Everyone loves a bargain! A .SALE domain is perfect for businesses looking to direct customers to sale items, coupons, daily deal sites, or even money-saving advisory services.
Whou should register a .SALE domain?
Businesses offering sales and promotions
Coupon and discount code sites
Daily deal sites
Money-saving advice services
.SALE Domain Pricing
Term
Register
Transfer
Renew
1 year

C$ 11.00

$ 50.99

C$ 37.99

$ 50.99

C$50.99
2 years
C$61.99
C$ 101.98
3 years
C$112.98
C$152.97
5 years
C$214.96
C$254.95
.SALE Domain Features
Web Hosting Canada gives you more. With each new domain name registration, you also get:
Domain Essentials (included!)
Complete DNS Control
Easily change nameservers, or create custom A, CNAME, TXT records using your Domain Manager.
Domain Locking
Protect your domain from unauthorized transfer with our security lock.
WHOIS Information Management
Update your domain's contact information with ease, to ensure it's always up-to-date
Domains Addons ($)
Domain Manager Pro
Protect your domain with more powerful Anycast DNS to help withstand large-scale attacks and increase uptime. Starting at 0.99$/mo.