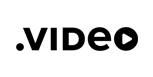 Find Your .VIDEO Domain Name
Straight to .VIDEO
.video
Transfer your domain
Register bulk domains
What is .VIDEO?
The internet runs on many types of media but .VIDEO is still king. No matter what you want to show, it is a good idea to let visitors know where to go for information and entertainment.
Why choose a .VIDEO domain?
People want to sit back and watch. A .VIDEO can be the springboard you need to showcase your creativity, products or services. Benefits:
Connects the website to a specific idea which helps it to be found.
Allows for a name that is easy to remember.
Has a higher availability than .COM, so you can find the name you want.
Who should register a .VIDEO domain?
Amateur or professional video creators
Businesses and services that have a lot of video content
Websites devoted to a particular topic
.VIDEO Domain Pricing
Term
Register
Transfer
Renew
1 year

C$ 25.26

$ 33.69

C$ 25.26

$ 33.69

C$33.69
2 years
C$58.95
C$ 67.38
3 years
C$92.64
C$101.07
5 years
C$160.02
C$168.45
.VIDEO Domain Features
Web Hosting Canada gives you more. With each new domain name registration, you also get:
Domain Essentials (included!)
Complete DNS Control
Easily change nameservers, or create custom A, CNAME, TXT records using your Domain Manager.
Domain Locking
Protect your domain from unauthorized transfer with our security lock.
WHOIS Information Management
Update your domain's contact information with ease, to ensure it's always up-to-date
Domains Addons ($)
Domain Manager Pro
Protect your domain with more powerful Anycast DNS to help withstand large-scale attacks and increase uptime. Starting at 0.99$/mo.