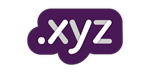 Find Your .XYZ Domain Name
How does generation .XYZ get online?
.xyz
Transfer your domain
Register bulk domains
What is .XYZ?
A little hip, a little technical, and a little out of the ordinary, a .XYZ domain says a lot with only three little letters. It is also one of the fastest growing domain extensions as Google's parent company, Alphabet, has the site abc.xyz.
Why choose a .XYZ domain?
Sometimes starting a new adventure begins at the end- of the alphabet. Get in the 'last word' or initiate a new trend with this eye-catching domain extension. Benefits:
Allows for an easy to remember domain name.
Delivers multilingual recognition as 135 different languages use the Latin alphabet.
Has a higher availability than .COM, so you can find the name you want.
Who should use a .XYZ domain?
Pop culture enthusiasts
Bloggers
eCommerce ventures
.XYZ Domain Pricing
Term
Register
Transfer
Renew
1 year

C$ 15.99

$ 19.99

C$ 15.99

$ 19.99

C$19.99
2 years
C$35.98
C$ 39.98
3 years
C$55.97
C$59.97
5 years
C$95.95
C$99.95
.XYZ Domain Features
Web Hosting Canada gives you more. With each new domain name registration, you also get:
Domain Essentials (included!)
Complete DNS Control
Easily change nameservers, or create custom A, CNAME, TXT records using your Domain Manager.
Domain Locking
Protect your domain from unauthorized transfer with our security lock.
WHOIS Information Management
Update your domain's contact information with ease, to ensure it's always up-to-date
Domains Addons ($)
Domain Manager Pro
Protect your domain with more powerful Anycast DNS to help withstand large-scale attacks and increase uptime. Starting at 0.99$/mo.