Fraud Alert! Don't get Fooled by Fake Invoices
In the last few weeks, we've noticed an increase in the number of reported phishing attempts, where hackers impersonate WHC through email in order to obtain your Client Area login credentials.
What Do the Fake Emails look like?
The fraudulent emails will generally include the WHC logo and text. They will attempt to lure you to a fake website that looks like WHC's Client Area and if you enter your password, they will store it and use it in future hack attempts.
As of today, we've mostly seen these emails being sent in French, originating from blatantly fake email addresses, requesting payments in Euros, and redirecting users to an address through a URL-shortening service (miniurl.be). Here is a sample of one such email: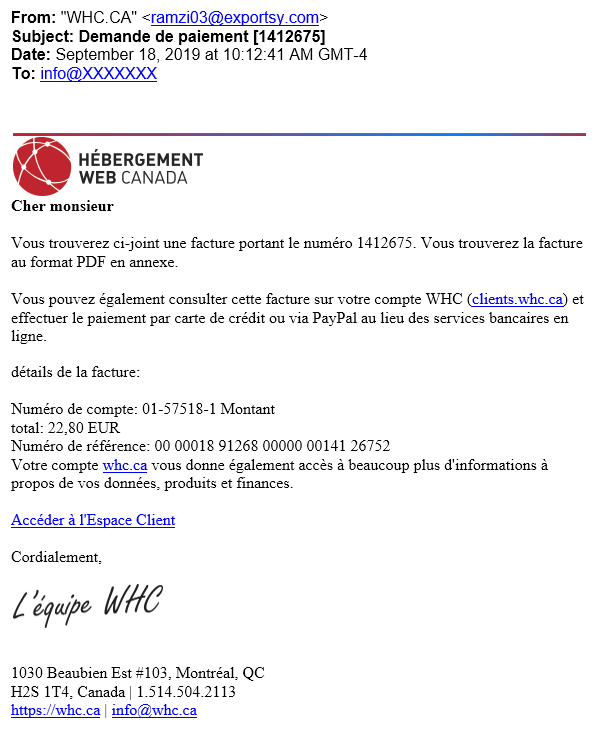 Keep in mind that fraudsters will vary their techniques often, so past fraud campaigns aren't always an indication of future ones.
How can I protect myself?
Here are a few ways to separate legitimate communications apart from phoney ones:
Web Hosting Canada will always send you emails from our authorized WHC.CA email addresses.
When logging in to the Client Area from your browser, always verify the address in your address bar, which should always start with https://whc.ca or https://clients.whc.ca
WHC does not send payment solicitations by postal mail. Beware of Domain Slamming attempts from letters received at your home or work address.
cPanel is also a popular target of phishing attempts. Be wary of emails asking you for cPanel login information.
Do not provide any personal or private information over email. If communicating with our support team, always use our secure support portal in our Client Area.
Mark any fraud emails as junk in your email system, and inform our Abuse department of any new security risks you come across.
Update your Client Area Password once every 6 months, or immediately if you suspect you were victim to one of these fraud campaigns.
Stay safe!


---
---
Web Hosting Canada
manages fast and reliable online infrastructure with 24/7 support.
Learn more about WHC
Also on the WHC Blog

October 2019 Domain Promotions & Price Changes
As the Holiday season fast approaches, WHC is happy to announce hundreds of new domain name promotions along with a few domain pricing changes. Here are the latest discounts and price changes affecting popular TLDs. Domain...
Read full article

WordPress Categories and Tags: Organise your Blog!
If you manage your own website, you're probably already aware that publishing new, useful content on a regular basis is an important part of increasing your website's visibility and improving its rankings in search engine...
Read full article
1
How can we help?
How can we help?
Our experts are available 24/7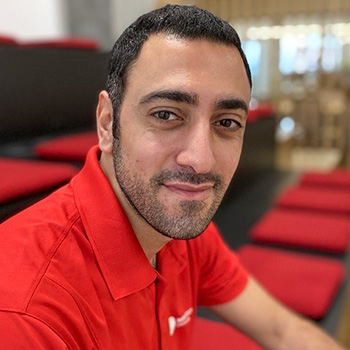 Chat Now
Questions?
Our friendly customer service team is available right now.
Start Live Chat
LIVE CHAT »