WHC has a Status Page
Anyone with a website knows: outages or downtime can happen at any time. There are many reasons why it can happen, regardless of the Internet service or web hosting provider you choose. (And it often seems to happen at the worst possible time, but that's another story!)
As soon as you realize your email or website is down, you want to understand exactly what's going on. Right. This. Second. Well, good news! There's now a way for you to find out what's going on 24/7, in just a few clicks: The WHC Systems Status page! A tab you'll definitely want to bookmark.
What is this for exactly?
WHC Systems Status Page is the best way to know exactly what's going on with our systems in real-time. You can determine at a glance if the problem you are experiencing is due to one of our systems. It's also an easy way to check for any ongoing or past incidents, monitor a particular outage, and be updated when everything is back up. You can also check for any planned maintenance.
Where can I find this page?
First, make sure to bookmark this page, so that next time something seems down, you know exactly where to go. But in case you decide not to, you can always find the link on whc.ca simply scroll down the page, all the way to the footer, and click on Systems Status.

It's also right at the top of WHC's Help Center page: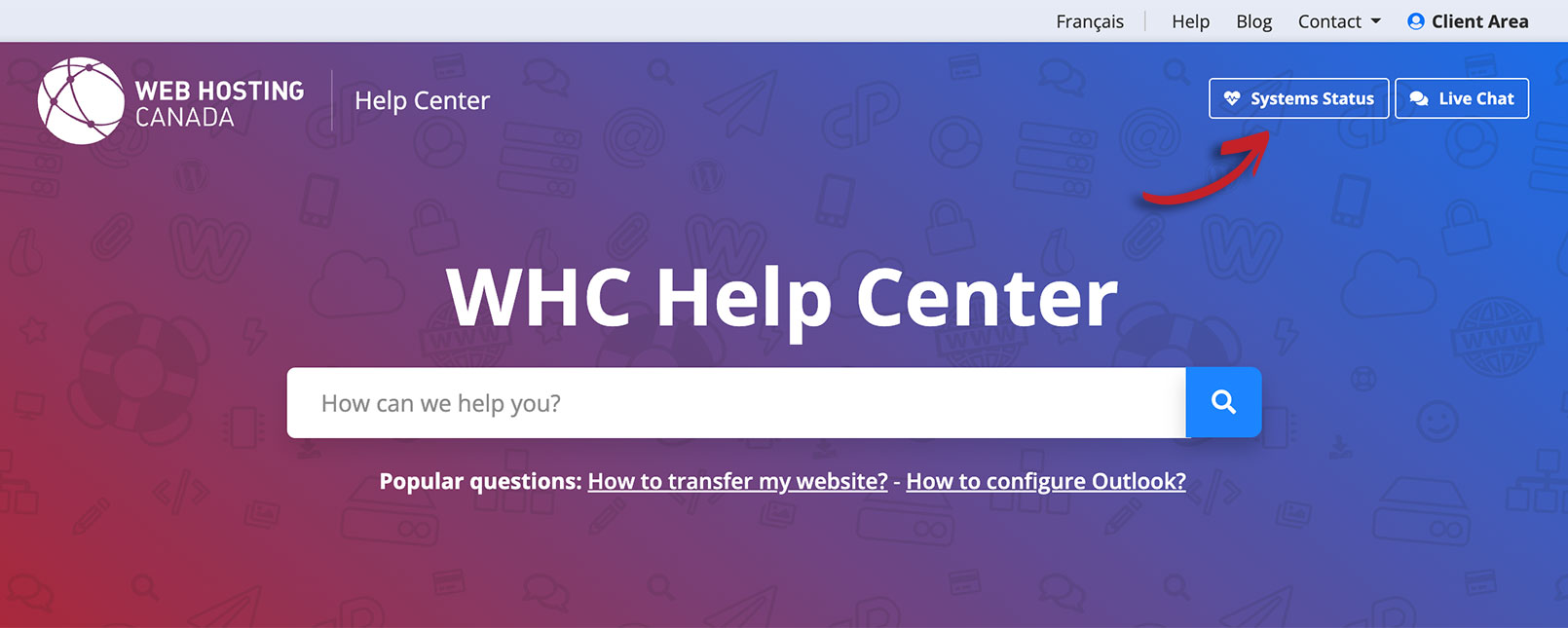 What do I look for?
As soon as you land on the page, you will notice a large status banner at the top. If the banner is green with a message stating All systems are operational, then you know that the problem you are experiencing is not caused by WHC's infrastructure.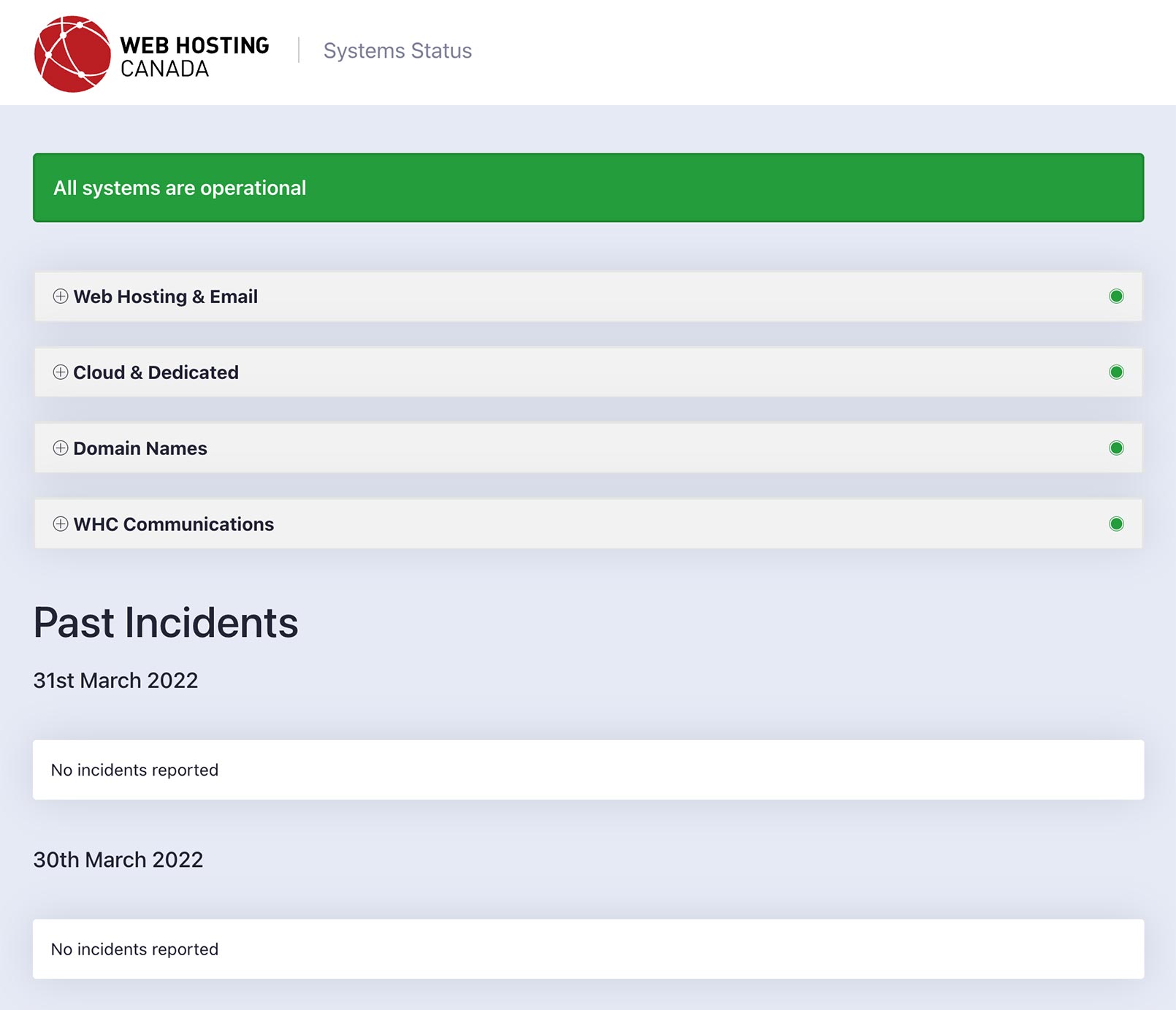 When a disruption or outage occurs, the status bar will be displayed in yellow or red, depending on the level and impact of the situation. You can then scroll down to see which system or server is affected, get a quick overview of what is happening and what is currently being done.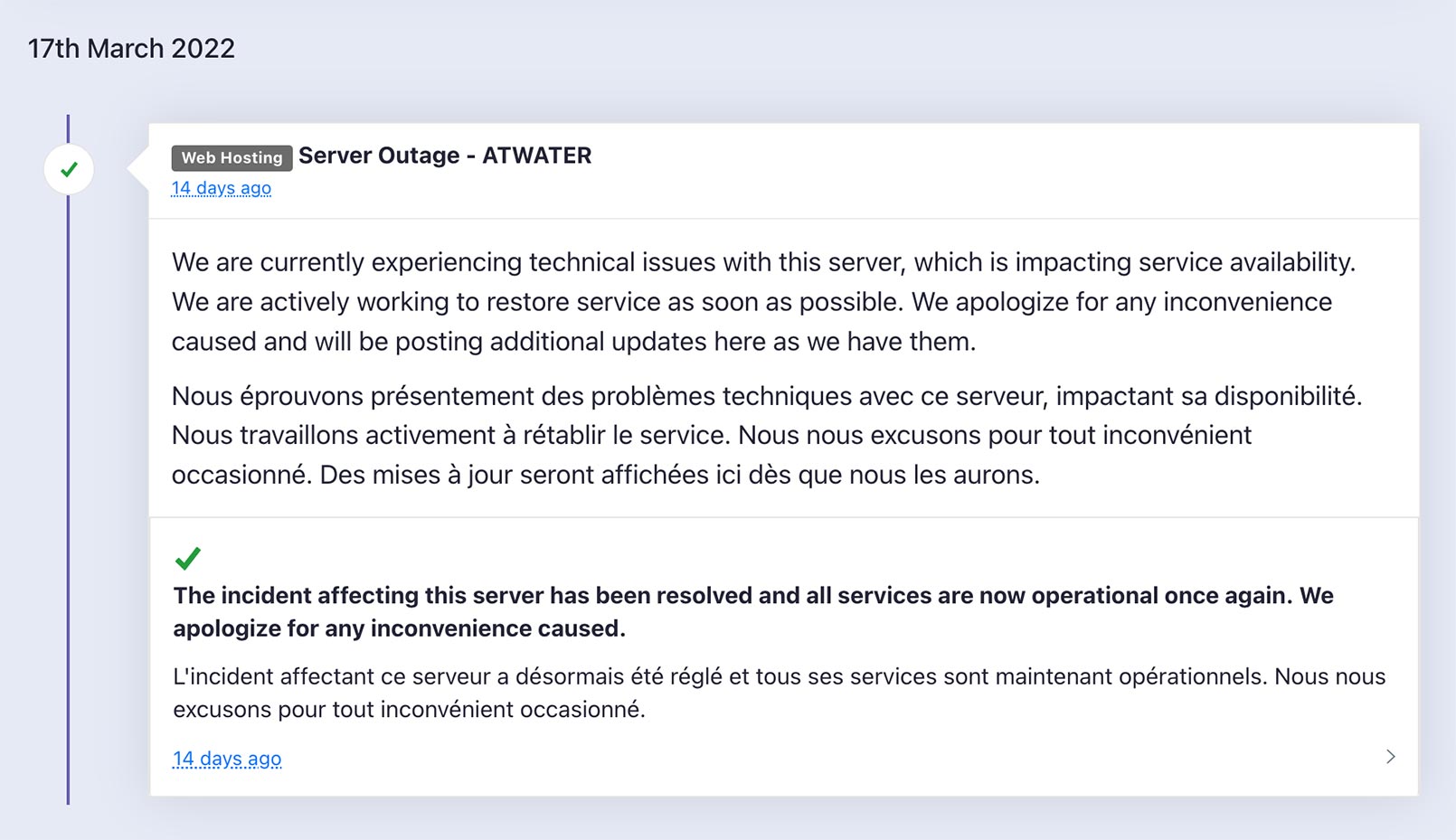 In this case, we can see an instance where the ATWATER server experienced technical problems that affected the availability of the service. The incident was solved a few minutes later and customers received confirmation as soon as everything was resolved.
How to know which server I'm on?
Knowing that the Viger server is down is one thing, but it's useless if you don't know which server your account is hosted on.
If you are on a Web Hosting, Reseller Hosting, or Managed WordPress plan, you can find the name of your server in the Client Area displayed under Go to cPanel.

For those who can't find their server, you can always contact our Support.
Possible outage? Visit WHC's Status Page
Yes, waking up with your email or website down usually triggers a reaction ranging from annoyed to panicked. Sometimes, just understanding what's causing the problem can reduce the stress and help you better manage the fallout of an outage.
This is the primary purpose of our Status Page.
Of course, on our end, it allows our team to focus on a quick resolution rather than responding to a flow of incoming tickets. It's also a way for us to maintain transparency with you in all our communications and our practices, and that's a promise we reiterated not that long ago. ;-)
So, next time you suspect a possible outage, visit WHC's status page*.
*Either right before or right after double-checking the problem is not with your wifi connection with the infamous 'unplug and count to 10', of course!
---
---
Web Hosting Canada
manages fast and reliable online infrastructure with 24/7 support.
Learn more about WHC
Also on the WHC Blog

15 things to check before launching your new website
Your shiny new website is designed and integrated with a CMS. You've spent weeks creating and tweaking... You DID IT! Now, everything is beautiful and it's time to go live! But hold on a second... are you...
Read full article

How to create content that sells
In business, it's extremely rare that a company will have a single point of contact with a prospect before they purchase a product or service. Normally you have to warm up prospective customers with more information,...
Read full article
1
How can we help?
How can we help?
Our experts are available 24/7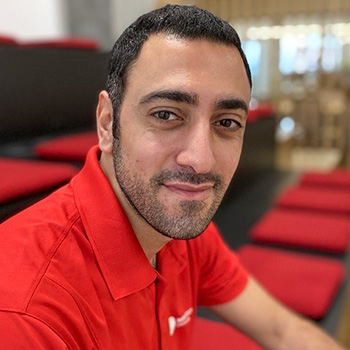 Chat Now
Questions?
Our friendly customer service team is available right now.
Start Live Chat
LIVE CHAT »