How to create content that sells
In business, it's extremely rare that a company will have a single point of contact with a prospect before they purchase a product or service. Normally you have to warm up prospective customers with more information, value, and content before they buy.
So how do you do this? Well, through killer content that adds value to their lives and/or business, in addition to promoting your products and/or services.
There's a process here that works especially well to determine what kind of content to produce, which will help drive traffic and lead to sales for your business.
Let's get into it…
Research your target market
The first step for any business is understanding exactly who their customer is. Ideally, this should go deeper than basic demographics like 30-45-year-old men in the US. (Though if your business is just starting, this will have to stay more generic and you will need to guesstimate here.)
Talk to your customers
A fantastic way to do this is through qualitative conversations with existing customers to learn more about them. You can also send surveys or questionnaires to gain quantitative insights.
You want to learn as much as possible about how they shop, what their interests are, where they spend their time, what inspires them to act, how they make purchase decisions, and the list goes on.
Understand their pain points
You'll also want to pay particular attention to the kinds of problems your customer needs to solve by understanding their pain points and how they're actively trying to reduce that pain. What are the types of products or information they're searching for that they feel will help them solve these problems? This can be part of your research as you develop your personas.
The main content you produce should speak to their pain points and reduce them, or offer a solution (your product/service) that will help eliminate them altogether.
Using the information you gathered, you can start to create personas made up of common threads and characteristics of your customers.
A persona example for a beard oil company
Harry is a 30-year-old man who loves the great outdoors and spending time with his family. He watches football games whenever his team is playing and loves to rock graphic t-shirts of his favorite bands. He invests in personal grooming products to look good and feel good about himself and to maintain his luscious beard.
You may even have up to 2-3 personas for each of your products/services!
Build up the Know, Like, Trust (KLT) factor
People need to build up a know, like, and trust factor before they feel comfortable enough buying from you. They should understand who you are, like you, and what you stand for, and trust that purchasing from you is a good and safe decision they won't regret. Let's face it, these factors usually take time to build and don't happen overnight. Ultimately, every piece of content you share should have a purpose and should help you build that relationship with them.
It's likely for these reasons that the 'golden rule' of content creation is that 80% should be adding value while 20% is actively promoting and selling. Of course, this will vary depending on what type of content you're producing, your business, niche, and also products, but you can use 80/20 as a general rule of thumb.
I think it goes without saying (but I'm going to share it anyway) that if you're only ever saying 'buy my stuff!' your customer will not see any value in following you or subscribing to your content, and it will not encourage any KLT factors, in addition to feeling downright pushy.
Find out what kind of content they like
So, what kind of content and information is your audience/target market craving, sharing, retweeting, posting, watching, etc.?
There are a few simple ways you can research this:
Look for your target audience and see what content they're reposting and sharing
Look at successful competitors in your niche to see what they're posting and what type of content is getting the most attention and engagement
Look at influencers your target market follows to see what they're producing and offering
And if you're looking for general ideas of what kind of content people are searching for, you can check platforms like AnswerThePublic and Google Trends, or perform searches on Pinterest or YouTube.
Simply type in the keyword for your niche, e.g. haircare, and see what other words, content, and products pop up. This will give you an overall sense of what people are looking for, so you can create content that answers these questions or provides the value they seek.
Decide where you will post this content
The content you create has many different places to live, and it's a matter of determining what should go where.
For example, on your product page, you should communicate how your product solves a problem, the specific benefits that it will provide your customers, and list of features. Alternatively, social media is a great platform to engage with your audience, and post inspirational or funny content that they can relate to and share.
Choosing where your content will live can be determined by how much time and resources you have to create the content for that specific platform. For example, creating podcasts requires time to record and edit. Newsletters will likely need some designing in addition to valuable content, but also require building a list of customers or prospects who want to hear from you. Choose the platforms that make the most sense for your business and the resources available to you, also consider where your audience is spending the most amount of time.
Here are a few examples of places your content can live:
Website pages
This is pretty self-explanatory, but your website should speak to all the reasons why your ideal customer should choose you, including benefits, features, and value adds while creating trust and credibility.
Blog
This space is a great way to demonstrate added value to your audience. Share insightful knowledge, and announce exciting updates on how your business is growing and improving. This type of content helps with organic visibility and SEO ranking.
Complimentary platforms
You can even develop content for other complimentary website blogs or social media to drive traffic back to your content and website, which is called creating backlinks.
Landing pages
These web pages are typically designed for the purpose of selling one specific product or service and speak to the value and benefits it brings. These are great to drive traffic to, with the sole purpose of increasing sales or leads. Landing pages usually eliminate any distractions like menus or footers from the page, in order to simply convert customers.
Newsletters
Whether it's weekly or monthly, newsletters can provide great value to customers by sharing pertinent and relevant information when they need it. You can promote your products and services here too, especially when you're offering specials and discounts.
To build your newsletter list, you can offer your prospects PDFs of highly-valuable content or allow access to exclusive content in exchange for their email. This way you can warm up your 'leads' into paying customers over time, by providing continuous value!
Social media
You should find out where your ideal customers are spending the most time. For example, which social channels, forums, and groups are they most active in? Then, leverage the power of social media to share your content and products. Not sure how to create social content? We show you how to create a social media calendar for the year in less than a day!
Influencer platforms
Collaborate with influencers, those who your audience already follows, knows, likes, and trusts to spread the word about your business and products.
Webinars
Create powerful content in video format that can help your ideal customer - you can even upsell your product as a solution to their problem. These can either be live or pre-recorded.
Podcasts
Audio format doesn't work for everything but may well be a great alternative when you have a lot of valuable information to share with your audience. They might want to listen to what you have to say while they workout or drive to work.
Alexa briefs
Another audio format that's bite-sized and growing in popularity.
Plan out and create content that speaks to them
After all your research, now you can start to create a strategy and plan around the type of content you'll produce that you know your audience is searching for and will love.
There are a few things to keep in mind. Your content should be:
Easily consumable
Engaging
Educational
Inspirational
Shareable
Savable
Frequency matters
On average people need to see your content several times before they make a purchase from you! A 'Rule of seven' was created by marketing expert Dr. Jeffrey Lant who said a customer must see your content at least 7 times over an 18-month period before buying. It takes time for customers to develop the know, like, trust in you and your products so be sure to post often and get your content in front of your prospects as much as you can (without also creating fatigue, of course).
Remember that on platforms like social media, your content isn't automatically shown to your audience, even if they've subscribed to you, so posting a lot more often here is always a good strategy.
Speak their language
This is one of the most important things to keep in mind when creating content… use the same language your audience uses, and one you know will resonate with them!
For example, if you have a marketing metrics tool you're looking to promote, you'll likely use the lingo your audience uses like 'KPIs', 'OKRs', and 'North Star'' to name a few. You want the content to resonate with them, and that starts with using the language and terms they most naturally use to describe things in their niche and world.
To sum it up
The majority of your content should be adding value, and not just simply selling. Yes, whenever it makes sense you should be 'plugging' your products and services, but generally speaking, this should make up only around 20-25% of the content you produce.
It's all about providing as much free value as you can to keep your prospects and customers coming back for more. If you can become the main source of information and resources for their needs, you will have loyal, repeat customers that will stick with you for life!
---
---
Web Hosting Canada
manages fast and reliable online infrastructure with 24/7 support.
Learn more about WHC
Also on the WHC Blog

WHC has a Status Page
Anyone with a website knows: outages or downtime can happen at any time. There are many reasons why it can happen, regardless of the Internet service or web hosting provider you choose. (And it often seems to happen at the...
Read full article

WHC stands with Ukraine
It's with shock and horror that we're witnessing Russia's escalating attack on Ukraine and its people. Our hearts go out to our Ukrainian colleagues trapped in the midst of this crisis, along with their families. WHC...
Read full article
1
How can we help?
How can we help?
Our experts are available 24/7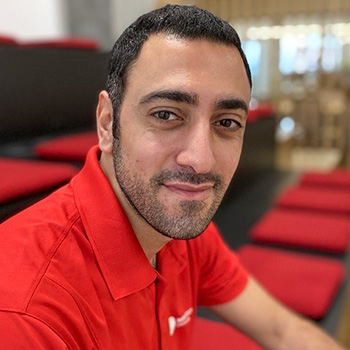 Chat Now
Questions?
Our friendly customer service team is available right now.
Start Live Chat
LIVE CHAT »