WordCamp MTL 2018 Roundup
The WHC team had a fantastic time attending and sponsoring WordCamp Montreal 2018, as we launched our Managed WordPress Hosting. Excellent presentations and many wonderful people made this year's conference a spectacular success.
Want a taste of what went on? Here is a quick roundup of the event with some featured talk snapshots!
For a complete list of conference topics, check out the schedule.
Format
Talks were divided into 7 categories:
General

Covering a wide range of topics from WordPress's hidden features to taking a Buddhist approach to WordPress.

Development

Development refers to the creation of a WordPress site starting from the initial planning, to managing plugins and what to know before deployment.

Code

The most technical category, coding sessions go deep into the underlying structure of WordPress, plugins and more.

Content

The content of your website is what makes it engaging. These talks go into planning, marketing and writing effectively.

Business

Top level talks on how to improve the reach of your site and concerns (such as privacy policies) that business owners should be aware of.

Lightning talks

Talks about any WordPress related subject, but make it quick. Each participant only has 15 minutes to present.

WooCommerce

As the most popular eCommerce plugin for WordPress, talks focus on how to get the most out of the application.
Timetable
With 46 scheduled presentations, 3 simultaneous presentations were given during each time slot.
There were presentations in both French and English, with at least one French-language presentation per time slot.
Day One - Saturday August 11th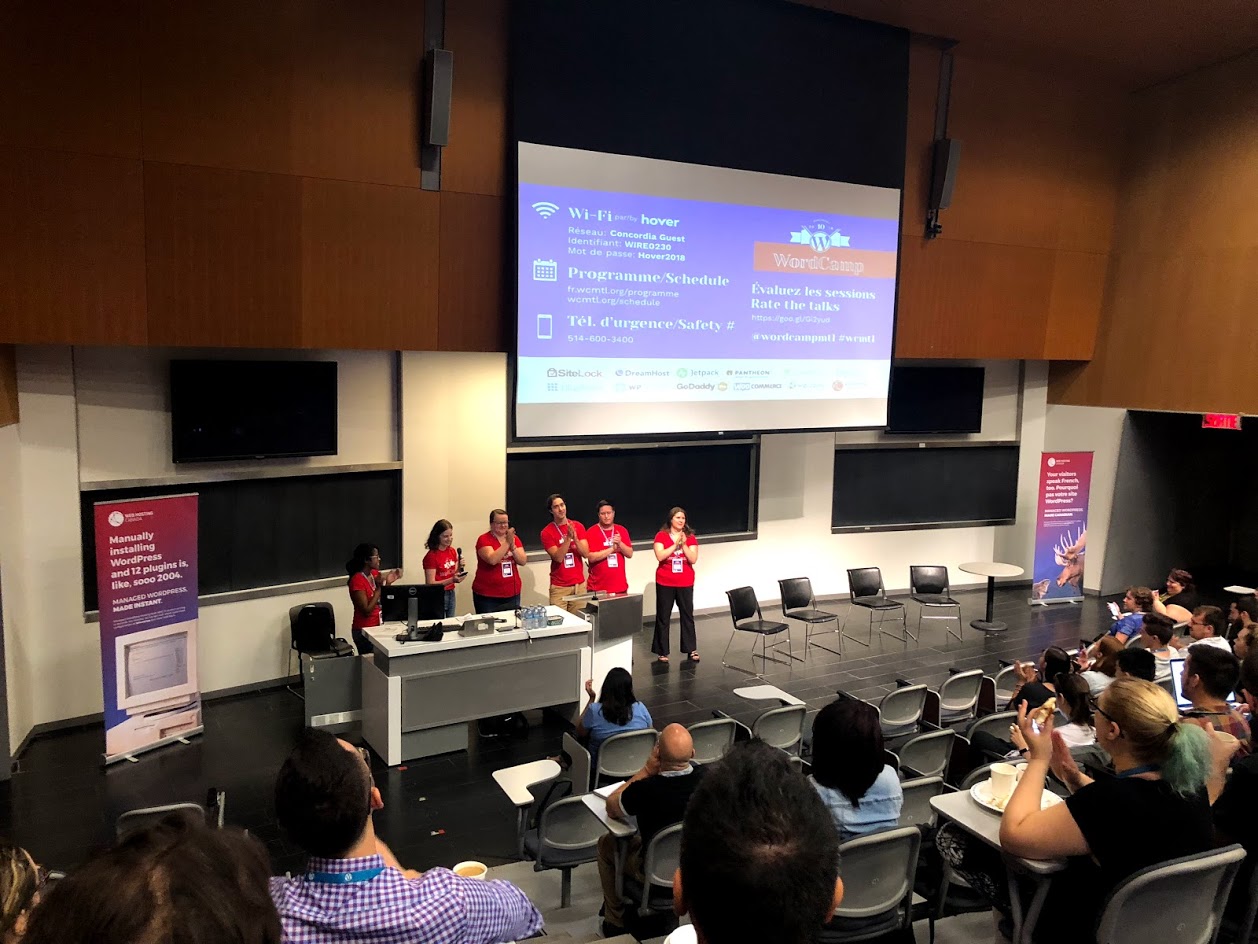 A continental breakfast fueled participants for a morning of information, starting with an orientation, in the Web Hosting Canada Theatre, led by the charming and hardworking organizers who made the event possible.
The first talks revolved around, surprise surprise, getting started with WordPress.
9:30 to 11:10
Presentations focused on how to begin using WordPress quickly, as well as deployment. Some interesting hidden features of the CMS were brought to light and a deeper understanding of WordCamp as a community put the event into perspective.
Featured Talk Snapshot: The "Hidden Features" of Wordpress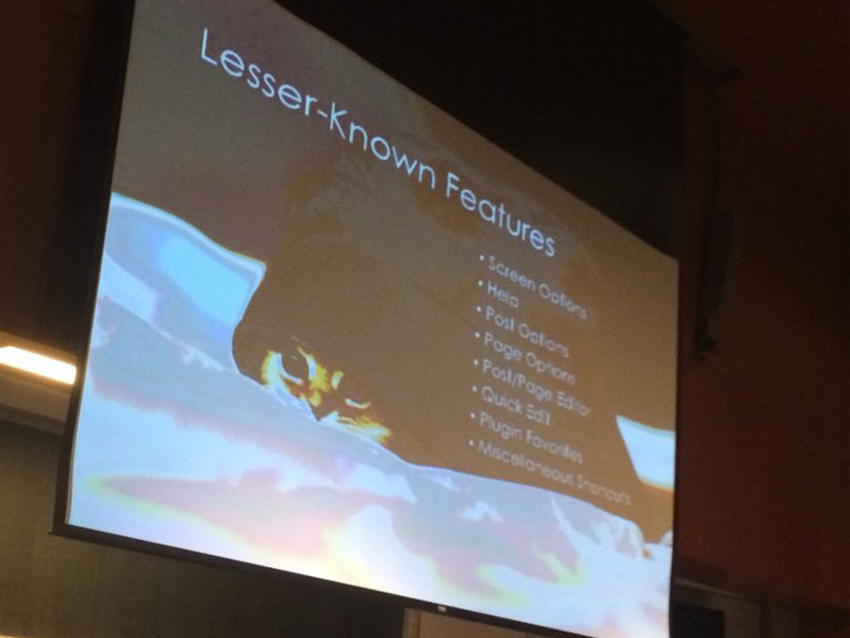 Here are some of the interesting points mentioned by Michelle Ames during her presentation.
As WordPress has many features, there are quite a few that go unnoticed:
Screen options
When in the WordPress dashboard there is the feature 'screen options' in the upper right-hand corner, allowing you to organize the interface to your liking.
Post options
The right sidebar in posts has a few accordion menus (opened only when clicked) which enhance control. Make a single post password protected, feature it on the first page and more.
Option
Under settings, WordPress separates the options into several categories. If you would like to see the majority of settings on one page, then type https://sitename.ca/wp-admin/options.php into the address bar.
11:10 to Noon
Lighting talks covered a wide range of topics from bilingual social media best practices to providing admin access to clients. Alternatively, an attendee could go learn about how to plan for success, before beginning a WordPress project.
Lunch
Omnivores, vegetarians and vegans had a variety of salads, sandwiches and cheeses to choose from during the buffet style catering. Eco-friendly was the name of the game, with reusable plates and cutlery ensuring minimal waste!
1:00 to 2:40
Stomachs full, the afternoon topics included developing workflows, submitting plugins, and the importance of staging environments. The high point for WHC were the security talks, one given by our very own Emil Falcon!
Featured Talk Snapshot: Protecting Your WordPress Site Against Threats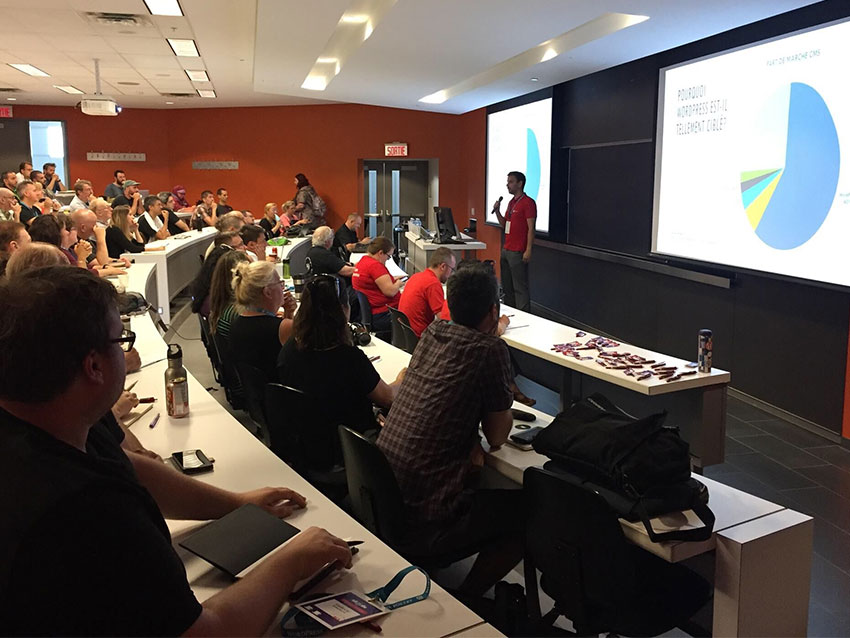 Emil Falcon went in-depth in this session devoted to protecting your Wordpress site (originally presented in French). Here is a small takeaway.
A study of 3,972 WordPress vulnerabilities found that
52% affect plugins
37% affect WordPress's core structure
11% affect themes
To minimize the potential danger users should make sure that their WordPress is updated to the latest version and should have a hosting company that offers several layers of protection.
Users can also check their site for vulnerabilities at: https://wprecon.com/
Furthermore, before installing a new theme, go to ­http://themecheck.info/ to see what security vulnerabilities it may contain.
3:00 to 4:50
Communication is needed at all levels of site creation. Seminars provided info on how to set up a bilingual site and increasing communication between designers and developers. Even visual communication was discussed at a talk devoted to web design trends.
7:00 to End of First Day
Organizers, presenters and attendees got together for beverages and lively chats at Cafe Osmo.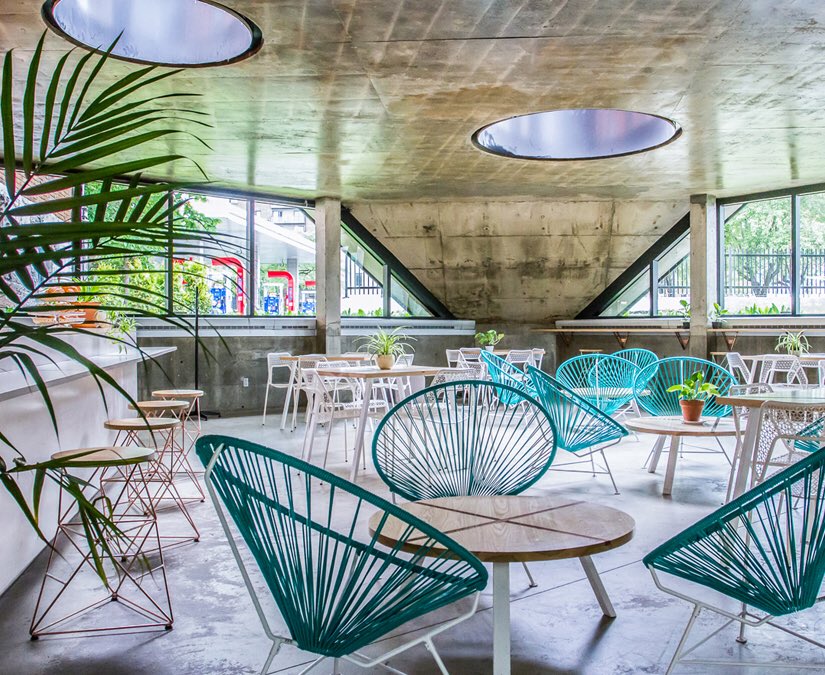 Day Two - Sunday August 12th
Day two had a great deal going on for marketers, content writers and coders.
9:30- Noon
Developers had a number technical talks about block development and using ReactJS, while content specialist got tips from industry leaders on formating, planning and blogging. Others were enlightened on how to work with zero waste and why a Buddhist mindset may be the best approach when developing in WordPress.
Lunch
You can't go wrong with pizza, unless there isn't enough. Got it covered!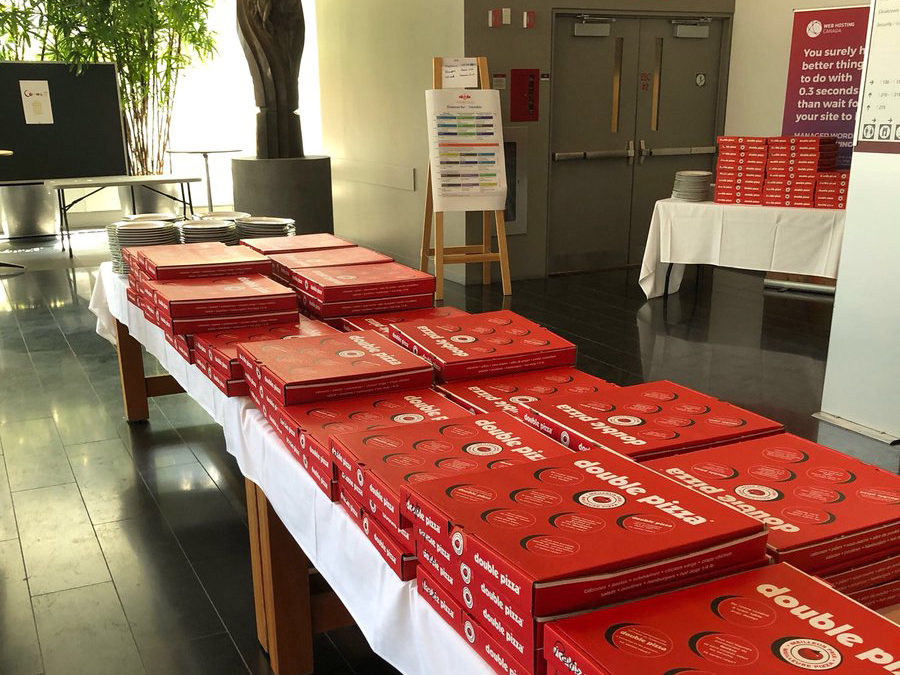 1:00 to 2:40
These sessions were all business with presentations on WP-CLI, GDPR compliance, multilingual site building, the importance of rich snippets and more.
3:00 to 4:40
The last few talks brought in a wide range of technical expertise. SEO and WooCommerce had back to back sessions, with maximizing the pages of your blog and discussing how to make WordPress work best for agencies rounding out the topics.
Featured Talk Snapshot: Technical SEO for WordPress Dev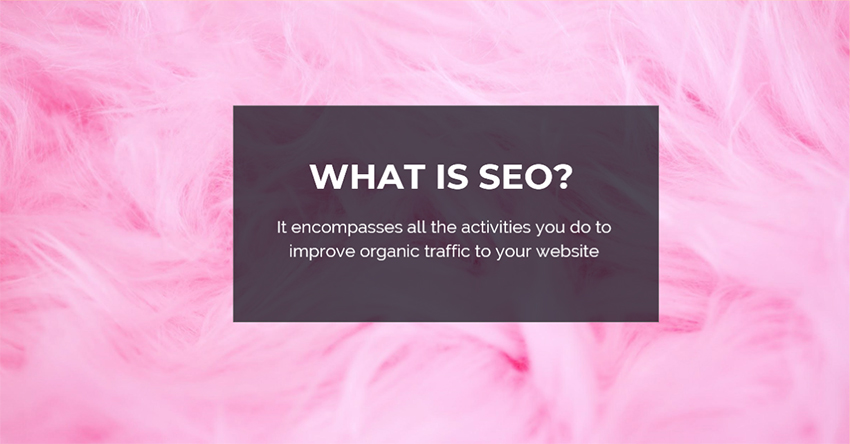 Myriam Jessier provided a wealth of indispensable information on SEO.
Here are some of her key points for creating a great URL
Limit the URL to 150 characters
Must follow website hierarchy
No not use accents
Do not use emojis or gibberish words
Do not use capital letters
Interested in Learning More?
With so much discussed there was something for everyone at this year's WordCamp. Did any of the topics grab your interest? You can find a complete list of presentations and (most of) their slides here.
We're already looking forward to WordCamp Montreal 2019! In the meanwhile, WordCamp Toronto 2018 has been announced and scheduled for December 1st, so we hope to see you there!
Hope to see you there next year!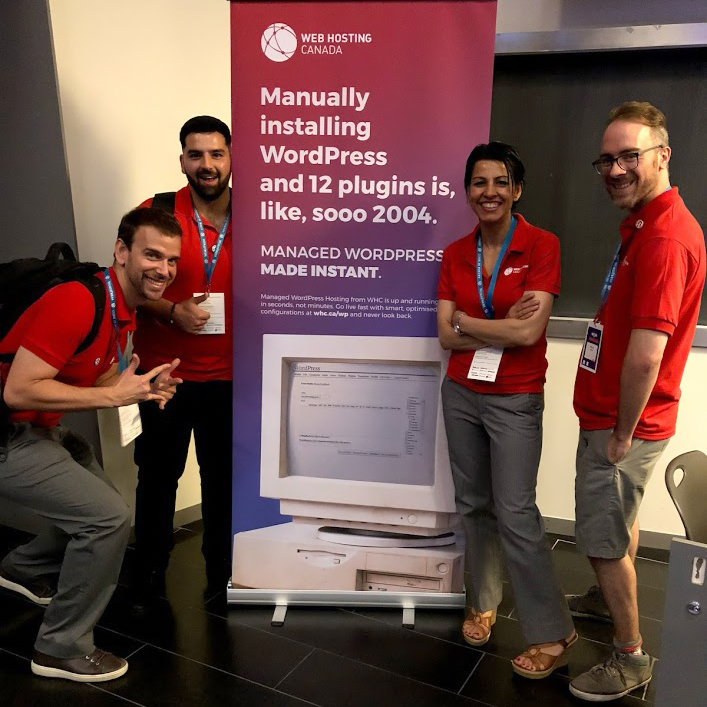 Happy Hosting,


---
---
Web Hosting Canada
manages fast and reliable online infrastructure with 24/7 support.
Learn more about WHC
Also on the WHC Blog

Introducing Web Hosting Canada's Managed WordPress: Fast, Secure & Canadian
Web Hosting Canada is proud to announce the immediate availability of our Managed WordPress Hosting, in its first public Beta and available to all Canadian small businesses! WordPress is the most popular Content Management...
Read full article

Introducing Imunify360: Your New, Intelligent Firewall
Web Hosting Canada is proud to announce that Canadian Web Hosting and Reseller Hosting now include Imunify360, an intelligent firewall that takes your website's security to the next level (or next six levels, even)! As...
Read full article
1
How can we help?
How can we help?
Our experts are available 24/7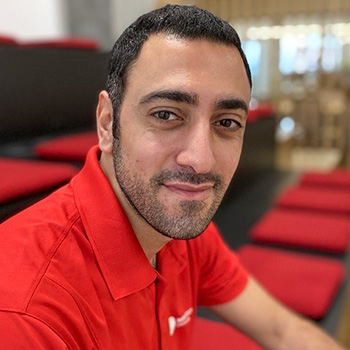 Chat Now
Questions?
Our friendly customer service team is available right now.
Start Live Chat
LIVE CHAT »