WordPress 6.4 "Shirley" is here
On November 7, 2023, WordPress introduced its third major update of the year — WordPress 6.4, affectionately named "Shirley" in honor of the jazz virtuoso Shirley Horn.
Inspired by Shirley's musical finesse, this new version blends sophistication with usability. Bringing you a new default theme, major enhancements and many new features for a better, more seamless website creation experience.
Let's take a look at what's new with WordPress 6.4.
As usual, if you have a complex website that uses several plugins, we recommend waiting at least a few weeks before upgrading to 6.4. Major upgrades may break some plugins/themes.
What's new with WordPress 6.4?
WordPress 6.4 arrives with exciting updates that make building your website easier than ever. Expect improved templates that make designing your site straightforward, enhanced writing tools for effortless creation of content, and expanded features that empower you with greater creative control.
Whether you're building your first website without any coding knowledge or you're a seasoned developer who builds websites from scratch, WordPress 6.4 makes the process more user-friendly and efficient.
Let's unpack all this…
Twenty Twenty-Four: A sexy new default theme
WordPress 6.4 welcomes Twenty Twenty-Four as its new default theme, and we love it at WHC! This versatile and adaptable theme is designed to meet diverse needs, offering more than 35 templates and patterns ideal for bloggers, artists, and business owners.
Curious? Experience how flexible the theme is on the live demo website. Switch through different site demos for Entrepreneurs, Bloggers and Photographers in the top right menu to see how Twenty Twenty-Four can transform to suit different website styles. Try it for yourself or get a visual feel of Twenty Twenty Four below.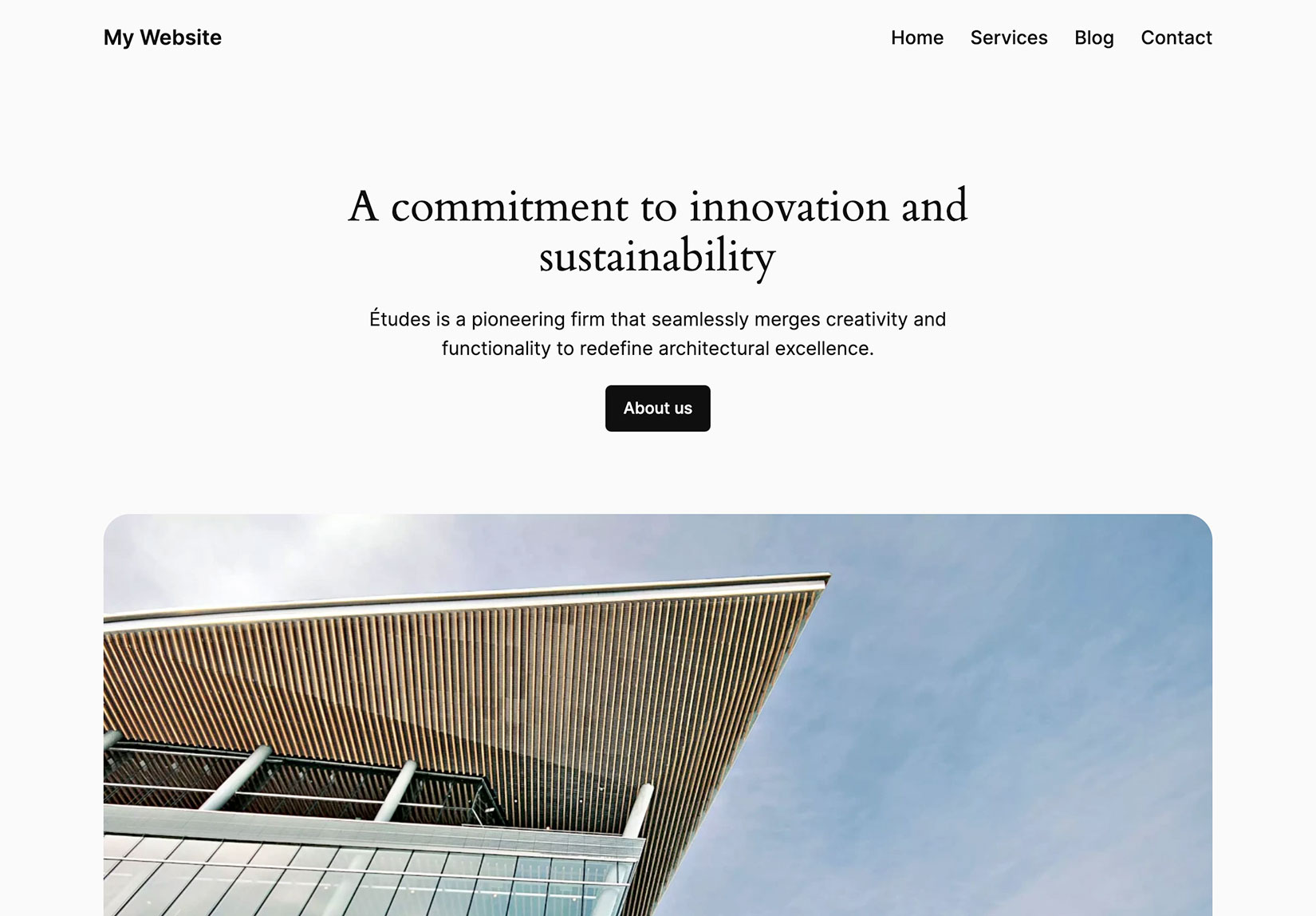 An easier writing process
WordPress 6.4 smooths out the writing process with several bug fixes and Core Editor Improvements like new keyboard shortcuts, smarter list integrations, and refined hyperlink controls. The updated toolbar for Navigation, List, and Quote Blocks streamlines your workflow, making content creation more efficient and enjoyable.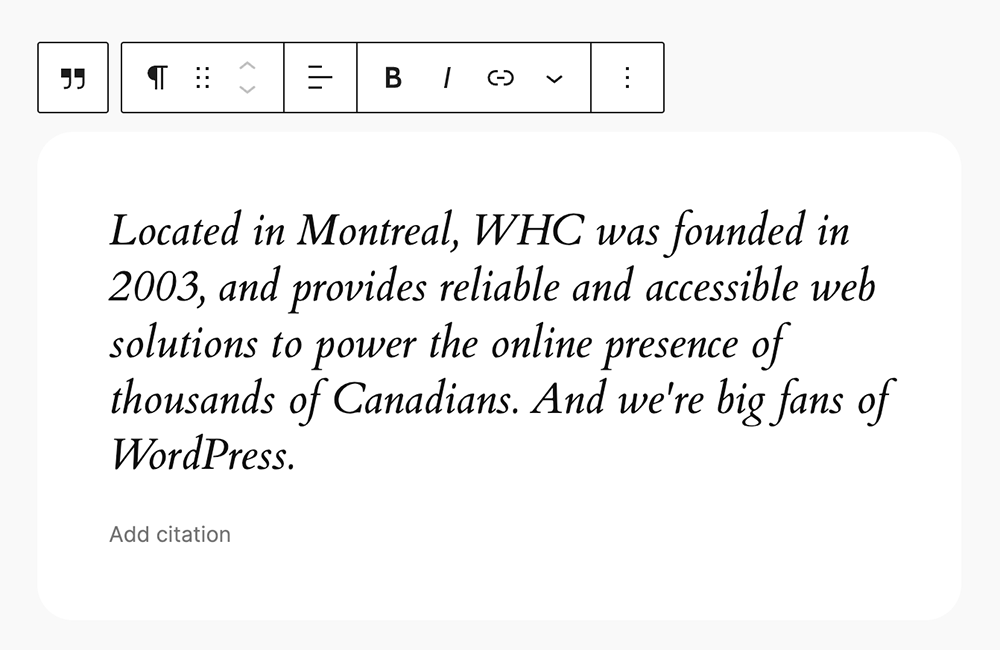 A more intuitive Command Palette
The Command Palette is a powerful tool that first appeared in WordPress 6.3. It accelerates your building process, allowing you to find features swiftly and apply block-specific actions with ease. In this version, the Command Palette has been revamped with a sleek design and additional commands. You can find the command palette at the top of the Site Editor. Or simply press either ⌘+k on your Mac, or CTRL+K on your Windows keyboard.
Create, organize and filter Patterns
Patterns allow you to copy/paste beautiful pre-designed layouts to any WordPress site. The power of patterns is unleashed further in WordPress 6.4, allowing you to categorize and filter them effortlessly. Find the perfect pattern with ease, thanks to the advanced filtering options in the inserter.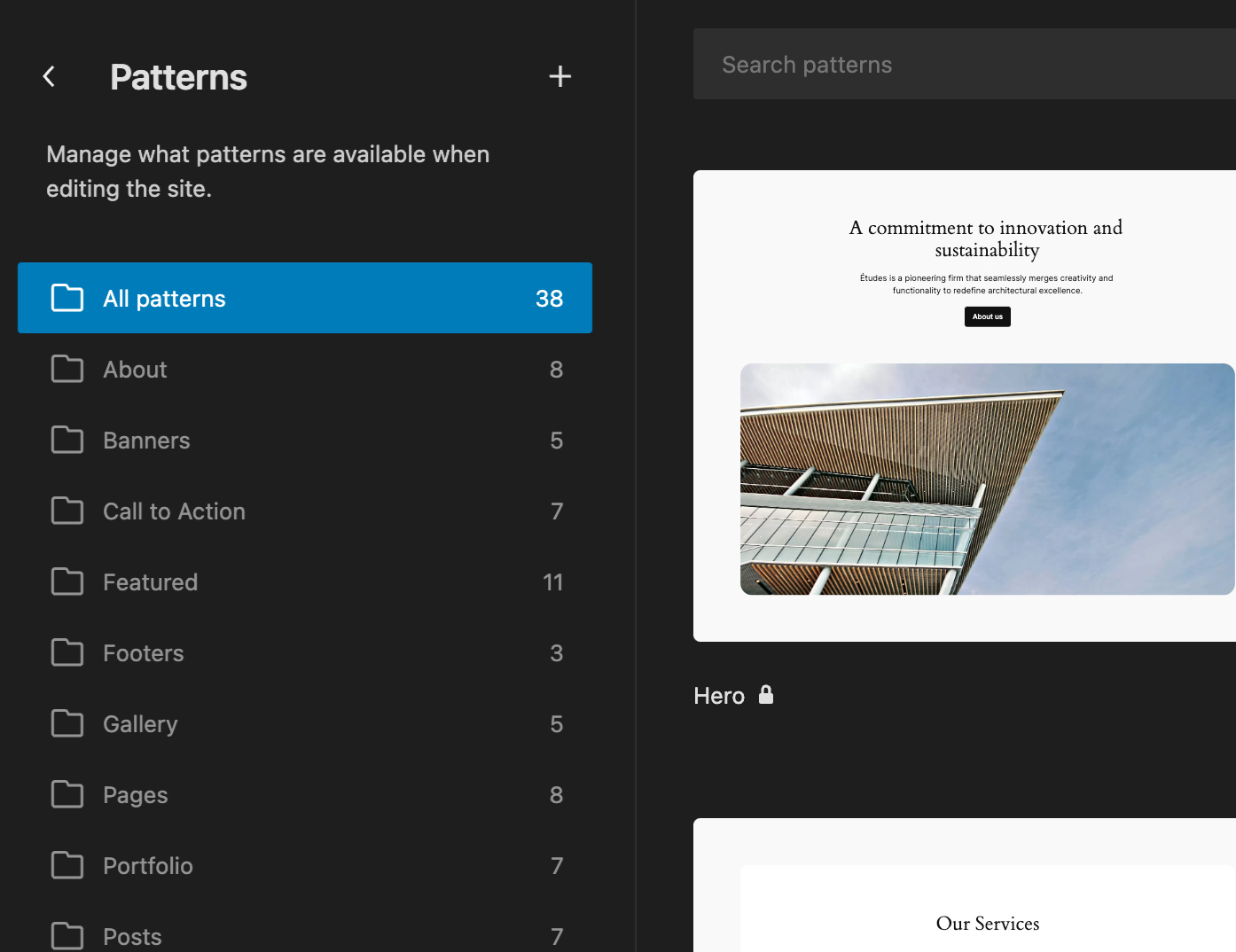 More design tools
WordPress 6.4 brings new design tools to improve your website's look. Add background pictures to sections for special effects and use placeholders to keep image sizes just right. Also, you can now easily add buttons to menus without needing to code.
Additional Features
Better performance: This update boosts speed with over 100 performance improvements. Key upgrades enhance theme loading, smarter script handling, and optimized data fetching for a smoother experience.
Enhanced accessibility: Every release is committed to making WordPress accessible to everyone, and this one does not disappoint: List View updates, Navigation block labels, better admin UI button positioning, and clearer Site Health announcements.
Images that stand out: Lightbox functionality means that your visitors can now enjoy full-screen, interactive images in one click.
Streamline Group Blocks: Easily rename Group blocks, like "Hero Area," to tidy up and track content sections in List View. multiple blocks, and an interface that's now embedded into the title bar.
Quick Image Previews: Spot images swiftly with new previews for Gallery and Image blocks directly in List View.
Portable Patterns: Transfer your custom patterns between sites with ease using the JSON import/export feature in the Site Editor.
Dynamic Block Placement: This one will make developers' lives easier with the ability to insert blocks dynamically with Block Hooks, offering site-wide block management while maintaining user control over content.
PHP support: PHP 8.1 or 8.2 are recommended for use with WordPress 6.4
Curious to learn more? Check out the official 6.4 release notes for additional info about this release.
Upgrading to WordPress 6.4
If you have a complex website that uses several plugins, we recommend holding off for a few weeks before upgrading, as major upgrades may break some plugins/themes.
When you're ready to upgrade, you can do so from either your WordPress dashboard or cPanel. See Manually Update WordPress and WordPress Plugins for more information.
If you use one of our Pro Managed WordPress plans, you can create a staging site to test out the new version. This will create a copy of your live website in a separate staging environment for testing (that won't affect your production site).
Ensure you have a working backup before making any changes. This way, you can quickly revert to your previous installation if any problems occur.
Until next time
We hope this article gave you some insight into the exciting new changes WordPress 6.4 brings. Want to see what's coming ahead in future versions? Check out what's planned for 6.5!
If you have any questions about how the upgrade may affect you, reach out to our friendly support team. We'll be happy to assist!
---
---
Web Hosting Canada
manages fast and reliable online infrastructure with 24/7 support.
Learn more about WHC
Also on the WHC Blog

Divi vs Elementor: Which WordPress page builder is better?
When it comes to creating websites, a content management system (CMS) is usually a must. And in terms of CMS, WordPress is undoubtedly the international leader. Obviously, to be able to create a WordPress site that packs...
Read full article

WHC is a Great Place to Work®... once again!
We're thrilled to announce that WHC has been certified as a Great Place to Work… for the 4th year in a row! And this doesn't happen overnight – it's the result of a consistent commitment to fostering...
Read full article
1
How can we help?
How can we help?
Our experts are available 24/7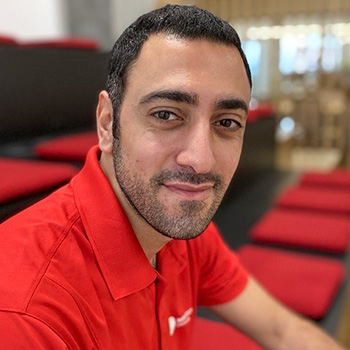 Chat Now
Questions?
Our friendly customer service team is available right now.
Start Live Chat
LIVE CHAT »