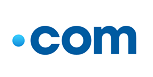 Find Your .COM Domain Name
The world's most popular domain name
.com
Transfer your domain
Register bulk domains
What is .COM?
.COM is the original and most popular domain extension in the world. If your .COM domain is available, you better register it today, before someone else does!
Why Register a .COM domain?
As the most popular and established domain name, the .COM domain is well-trusted.
.COM domains position your business as a serious and established global player. Fortune 500 companies and the world's fastest-growing companies use .COM domains.
.COM is the standard go-to domain extension that most people will type into their browser when you spell out your domain.
Who should register a .COM domain?
In short, everyone with a website, including:
Businesses
Companies or Corporations
Private Individuals
Social Media
New Outlets
and many others...
.COM Domain Pricing
Term
Register
Transfer
Renew
1 year

C$ 13.99

$ 18.99

C$ 13.99

$ 18.99

C$18.99
2 years
C$32.98
C$ 37.98
3 years
C$51.97
C$56.97
5 years
C$89.95
C$94.95
.COM Domain Features
Web Hosting Canada gives you more. With each new domain name registration, you also get:
Domain Essentials (included!)
Complete DNS Control
Easily change nameservers, or create custom A, CNAME, TXT records using your Domain Manager.
Domain Locking
Protect your domain from unauthorized transfer with our security lock.
WHOIS Information Management
Update your domain's contact information with ease, to ensure it's always up-to-date
Domains Addons ($)
Domain Manager Pro
Protect your domain with more powerful Anycast DNS to help withstand large-scale attacks and increase uptime. Starting at 0.99$/mo.