Prepare Your Website for Black Friday! (2019 Update)
Over 50% of Canadians took advantage of Black Friday & Cyber Monday to complete purchases last year, with the majority now shopping online. 2019 will likely be no different, with droves of Canadians ready to buy products and services from you or (if you're not sufficiently ready) your competitors.
This shopping season, your website needs to be ready! In 2019, Black Friday is on November 29, and Cyber Monday is on December 2. Depending on your industry, promotions may start weeks earlier and last a few days later.
So what should you do to ensure your online promotions make a maximum impact? Whether you've been perfecting your Black Friday marketing for years or it's your first time, this guide will help establish a strategy on what to do and how to do it.
Step 1: Determine Your Promotions
For Black Friday, you'll need to clearly identify:
Which products or services you're going to promote
What price points you'll be selling at
Remember: Black Friday is all about the deals. Pricing is key, so you'll want to be as aggressive as you can.
You may already have an idea of what you want to put on sale during Black Friday, but a little research never hurts. Start early! Getting it right takes time. Here are some tips on how to narrow down your options and how to create the most effective promotions.
Start with Your Best Sellers
As a business operating online, you likely offer a variety of services or products. Among those, one or two likely generate the most revenue. On Black Friday, consider making your best sellers the centerpiece of your online campaign to maximize interest and drive sales. This will increase the likelihood that your website visitors don't leave empty handed once they've hit your website.
Does your main product or service offer add-ons or extras? Putting those on sale and marketing them aggressively could be an excellent way to get existing customers who have already purchased from you to come back for more.
Finally, you likely have other products you could consider putting on sale, but which ones should you choose? Time for a bit of research.
Analyze Trends
A lot can happen in a year, why not see if one of your products or services is increasing in popularity?
Google Trends is the tool for the job. You simply enter keywords, country and timeframe, and it will generate instant reports telling you if the topic is currently increasing in popularity or not. You can also use it to tell which product is more popular in general.
Let's say your online shoe store has both red pumps and blue pumps. Which should you promote if you want to choose only one?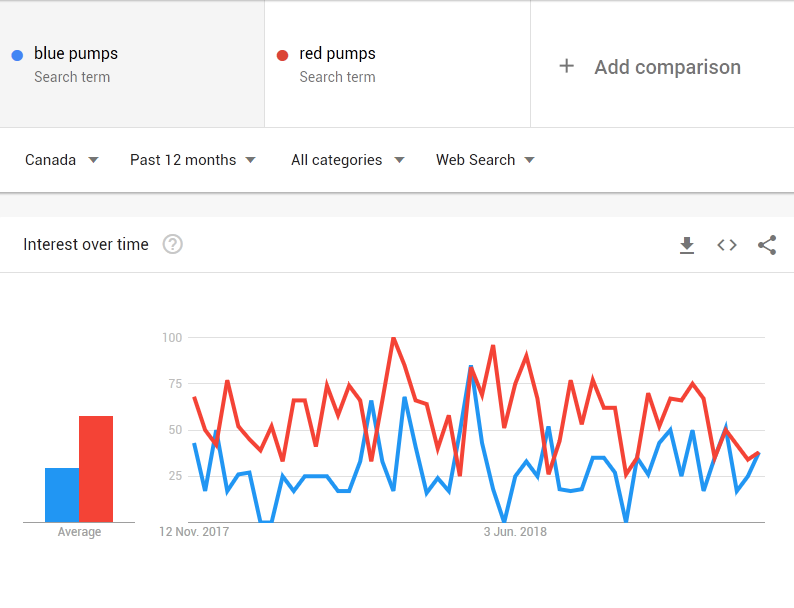 Looks like red pumps are more popular, and might be a better fit for a successful Black Friday promotion.
Check out the Competition
Your competition may have already done their research and could inspire your next round of sales. Analyzing their promotions makes good business sense. Since many don't advertise their promotions prior to Black Friday, why not go back in time and see what they did the year before?
The Wayback Machine is a website that records the history of websites as they change over time. Add in your competitor's domain and look at late November/ early December last year to see what they did.

Prepare Your Inventory
For product sellers, taking stock of your inventory is important in three ways.
First, it allows you to see if you have the necessary inventory to meet the expected demand.
Second, by knowing the quantity of a product in stock you can have a better understanding of the type of promotion to offer. For instance, a 2 for 1 sale might make more sense for you than a 50% discount on a single item.
Third, listing items as limited stock can be an effective incentive to get customers to jump on a great deal as soon as they see it.
Determine the length of your promotion
Will your sale last a single day? Will the Black Friday sale be different than your Cyber Monday sale? Will your sale extend for the rest of the cyber week, or possibly for the rest of the month of November?
The choice of promotion length will vary based on multiple factors, including your expected sales volume. A website or bricks-and-mortar business that gets a lot of daily traffic (be it virtual or physical) can afford to create short promotions, knowing these will generate significant sales. For smaller providers, it might be smarter to extend promotions over a longer period of time, possibly even a week or more. Remember that setting up effective promotions requires an important time investment, so it might not be cost-effective for you to dedicate so much effort for a campaign that doesn't actually generate results.
Regardless of the promotion length you decide on, make sure to clearly identify each promotion's start and end dates and organize logistics so that these promotions start and end on time.
Step 2: Publish Your Promotions
Once you've determined which products you'll put on sale, it's time to think about publishing them. You'll want to:
Create compelling copy & visuals
Showcase the Sale Throughout Your Website
Create a special Black Friday & Cyber Monday landing page
Create buzz through your blog
Create Compelling Copy & Visuals
In a sea of Black Friday sales, it is your job to grab the attention of potential customers. Having great promotions is the main focus but the feel and branding of your sale is key.
Copy should be made engaging but simple, so visitors understand your main sales at a glance. If you bombard visitors with information they may lose focus and leave.
Visuals will need to stand out from the main design of your website. Images, colours and fonts should work together to maximize effect. Keep in mind that website visitors have very short attention spans! Your website should capture their interest within seconds by making it obvious that there's a Black Friday sale going on.
Showcase the Sale Throughout Your Website
You never know exactly where a visitor will enter your website from, so sales will need to be showcased throughout.
There are a number of ways to achieve this.
Header - The header holds the navigation elements of your website and is often incorporated into every page. Space is limited but it's a great location for a small visual which links to the main sales.
Footer - The footer is another element that appears on every page, but at the bottom. If nothing else adding a link to the main sales page in the footer is a way to grab the attention of visitors that like to quickly scan a full page of a website before exiting.
Banners - Banners are usually placed directly below the header. You can have a stationary banner that promotes your top sellers or incorporate a slide effect which rotates through the various promotions you are offering.
Pop-ups/overs - These are visuals that appear from the top, bottom or side of a screen, or just appears. These can be very useful as they are not dependent to a specific page, but can be programmed to appear where a visitor is on the site. But remember to not overdo it. No one wants a pop-up/over to jump out at them every time they navigate to a new page.
These visuals should link to either a landing page containing all the promotions or directly to the appropriate page, if the visual displays a single product or service.
Create Specialized Black Friday & Cyber Monday Landing Pages
Creating a landing page – a page devoted to one topic – for your Black Friday sales is a great way to help push traffic towards your site.
But all landing pages are not created equal. When it comes down to it, you always need to focus on the user experience.
Make Your Promotions Stand Out
With attention spans in quick decline, it's often a good idea to create a single page (or set of pages) that display all your promotions at the same time. List your promotions in a simple, eye-catching fashion and limit text to one or two key benefits offered by the product or service. Remember, people always prefer knowing why a product or service is great for them, as opposed to why it is great in general.
Some individuals may need more information, so having a link to the main product or service page might be a good move. However, you may want to consider your call to action strategy before adding that link.
Include Clear & Direct Calls to Action
A call to action (CTA) is a short message that tells people the next step they need to take. CTAs may seem like a small detail but a study by AdRoll shows that click-through rates on Facebook ads went up an average of 285% when an effective one was added.
So, entice your audience with a short, catchy call to action for each promotion. Buy Now or Learn more are straightforward and effective CTAs, but don't be afraid to get creative.
For instance, if your product is Canadian, then make your CTA reflect that.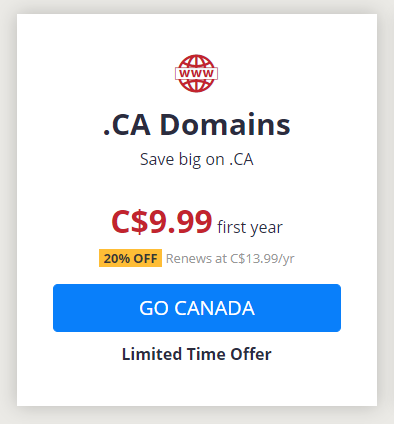 Your CTA should either send the client to your shopping cart, or to a page offering more details on the service or product in question. If you think that the majority of clients will need more information before making a purchase, then linking to the product page is probably the way to go.
If the product or service is straightforward, then you will want to link your CTA to an order form.
Unsure which to choose? You can do both: have your main CTA button send visitors to your order form or shopping cart, while a "Learn more" link provides them with additional product details.
Leave the Landing Page Up All Year!
Resist the temptation to remove your Black Friday landing page after your sale is over. A web page's age is a contributing factor to search engine rankings. This is why you should consider keeping the page up all year round. Think of it as Google getting to know your page. If there is a new one each year, then you have to reintroduce it to Google each time. On the other hand, if its always up, then Google already has an understanding of the page and how to rank it.
During the off-season make it clear that sales are over but invite visitors to check back next Black Friday to save big.
Set Your Promotions in Your eCommerce Platform
Assuming you're selling online, you're using some sort of an eCommerce platform. Certain platforms are better suited for promotions than others. WooCommerce, available as a WordPress plugin, is a preferred eCommerce tool and allows you to customize promotions extensively.
Other popular platforms include Magento, OpenCart and PrestaShop, all of which provide their own mechanisms for creating and maintaining promotions. Regardless of which solution you use, make sure you familiarize yourself with it, and configure it accordingly.
Create Buzz Through Your Blog
A blog post can be used to create buzz in the lead-up to the sale. A blog post can also be more useful than a landing page showing sales that have not yet started.
In the blog, discuss sales that are on their way, including why these products/services are a solution to a problem faced by your audience. Consider using this opportunity to hype up the sale and convince potential customers to get their credit cards ready. Teasing visitors by only revealing partial information about upcoming promotions is a popular approach that garners interest and helps create buzz.
A carefully crafted blog post will promote interest, expand on benefits and answer possible questions. It's also a great tool to allow discussion on your offers, or to promote sharing through social media.
Step 3: Promote Your Sale!
Send Out Your Promotions By Email
A study done by Marketing Sherpa reported that 72% of consumers prefer receiving promotional messages through their email accounts. Email marketing is also one of the most cost-effective ways of getting the word out.
Keep the email short and sweet so that a 10 second scan of the email is enough to understand your major promotions. Include a clear call to action to your optimized landing page to maximize sales and conversions. Optionally add a link to your blog article (which you've already written, right?) so readers can learn more about your products or services.
Canada's Anti-Spam Legislation (CASL) does apply to email promotions. If you are unsure about the regulations and how they apply, please consult the official FAQ.
Post Your Sales on Social Media
Facebook, Twitter, LinkedIn, Instagram, Pinterest, Google+ are your best friends during Black Friday. If you have social media accounts (and you should have social media accounts!), then put them to work. Aim to create at least two posts on each of your accounts. First, send out your blog article in advance of the sale to garner interests and inform.
Second, before or on the starting day, create a post linking to your landing page, as shoppers will be scouring for deals.
If you want to post more than twice, consider posting about specific promotions, both before and during the sale. If your promotions expire on a certain day and time, make sure to include those details to create a more powerful call to action.
Index New Pages in Google
If you have created a brand new landing page or blog for Black Friday, then you need Google to notice it fast. In nerd speak this means the page requires indexing. The fastest way to do this is by accessing Google's Search Console.
If you don't already have a search console account, get one. It's free and will also help monitor your site and tell you when specific issues arise.
Search console has recently updated its interface to make the process of indexing a single page even easier.
Copy and paste your fresh new page at the top of the Search Console, then press enter.

This is how it appears on our search console, yours will display your website.
You will be informed on the status of the page. If it has not been indexed by Google yet, then simply click the "request indexing" button and Google will start the process.
Consider Paid Ads
Formerly Google AdWords, Google Ads allows you to advertise on the search engine results page and can deliver quality traffic to your website. Competition for ad space can be fierce, so do your keyword research diligently and set your budget accordingly. If you haven't already used paid ads, Black Friday may not be the best time to start due to the important cost considerations. Consider setting a low to moderate budget and increase it once you have seen clear, positive results. If you are a WHC hosting client, we can issue a 100$ advertising coupon for your new Google Ads account; simply reach out to our support team to request it.
Other paid advertising options include Facebook Ads and Bing Ads.
Step 4: Ensure Your Website's Platform is Optimized for Black Friday
Besides promoting your specials, there are a few things you should check to ensure stability, promote trust, and improve accessibility of your website.
Make Sure Your Hosting Plan Can Handle The Traffic
No one wants a website down during the biggest shopping days of the year.
You will probably have a significant uptick in traffic during the Black Friday/Cyber Monday sales period. Talk to your web hosting company for information on the amount of traffic your website can take on and if necessary increase its capacity.
There are also ways to make a server more efficient. Ask your provider if they use LiteSpeed technology or similar website acceleration software to ensure your website stays up and running during peak times.
Fully Secure Your Website with SSL
To promote trust, you need SSL.
Google Chrome made a big move this year. You may have noticed that some websites are now displayed as 'not secure' in the domain address bar.

The notification happens when a website does not have an SSL certificate. These certificates add a layer of security to a site by encrypting information between visitors and the website. You will know which sites are secure as they will have https in their address bar (the 's' means the website is secured by SSL).

If you do not have an SSL certificate you can purchase one from WHC, or get one automatically installed with a Pro or greater Canadian Web Hosting Plan.
Check Mobile Friendliness
76% of Canadians had smartphones in November 2017. So, it is safe to say that a lot of your visitors will access your website on their smartphones.
Is your site ready? You can find out by using Google's Mobile Friendly Test tool. Just enter your domain and it will let you know if you are mobile ready or if you fall short. It will even provide solutions which you can pass on to your web designer.
Follow these guidelines and you will be well on your way to gaining more traffic while also offering visitors a much better online shopping experience, during one of the busiest periods of the year for most businesses. Got a tip that you think we've overlooked? Share it with us in the comments below!
Happy Hosting


---
---
Web Hosting Canada
manages fast and reliable online infrastructure with 24/7 support.
Learn more about WHC
Also on the WHC Blog

6 Great Chrome Extensions for Web Designers
Google Chrome is one of the most popular internet browsers in the world thanks to its many functions, sleek interface, and of course its connection to the mighty search engine and their software and hardware. But many of...
Read full article

Agency Spotlight: the Story of a Successful WordPress Agency
As part of Web Hosting Canada's Agency Spotlight feature, we recently spoke to Maxime Jobin, the co-founder of SatelliteWP, a Montreal web agency specializing in WordPress maintenance services. An expert in automation and...
Read full article
1
How can we help?
How can we help?
Our experts are available to answer you immediately.




Start Live Chat
Questions?
Our friendly customer service team is available right now.
Start Live Chat
LIVE CHAT »