WordCamp Montreal 2019: Here's what You Missed!
The WHC team was excited to be a gold sponsor of WordCamp MTL 2019. We've got the round-up of what went down this past weekend at the event, in case you missed it!
2 Days. 45 Presentations. 17 Sponsors. 400 Attendees.
With 3 simultaneous tracks and talks covering a wide range of WordPress-related topics over the course of 2 days, there was something of interest for everyone. Beginners, seasoned WordPress users, and developers came together at Concordia's John Molson School of Business building in downtown Montreal, to improve their knowledge and share their experiences with the world's most popular content management system.
When not attending presentations, there was plenty of networking, exchanging and brainstorming over coffee, drinks and snacks on the main floor, near the Sponsor kiosks.
Web Hosting Canada's team was present to greet attendees at the WHC stand, alongside other WordPress sponsors including Pantheon, BlueHost, GreenGeeks, WPEngine, Liquid Web, and Weglot. As the only Canadian hosting provider at the event, WHC was proud to showcase Canada's premier Managed WordPress Hosting solution.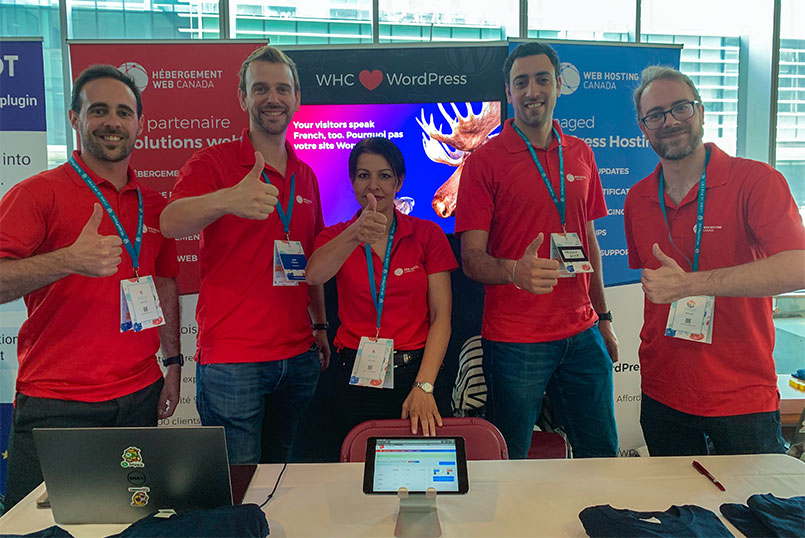 We were thrilled to meet with longstanding clients whom we have been interacting with online for many years, finally putting faces to some names.
For those who wanted to have a sneak peek, we provided real-time demos of our brand new WordPress Staging functionality. We enjoyed geeking out over WordPress features, problems, and solutions that Canadian businesses and entrepreneurs cared about.
Oh, and did we mention there was plenty of free swag to go around? Our Stay Calm and Use Staging t-shirts were a massive hit, as we ran out of stocks within hours of the conference start (don't worry, we're printing more for next time)!
For those who had questions that were not answered in the presentations, the WordPress Happiness Bar had experts in various fields ready to provide answers.
💙 Activité WordCamp Montréal 💙

Le Happiness Bar offre une aide GRATUITE avec votre site Web!
- - - - - - - - -
💙 WordCamp Montreal Happiness Bar 💙
Get your WordPress questions answered, one-on-one, by our knowledgeable community volunteers. pic.twitter.com/la61Zpv4tI

— WordCamp Montreal (@wordcampmtl) August 9, 2019
Of course, you need brain fuel to properly take in 2 days packed with valuable information. The WordCamp organizers provided hearty lunches and healthy snacks to keep us going!
C'est l'heure du lunch 😋
- - - - -
Lunch time ! #wcmtl #wordcamp #wordpress pic.twitter.com/QM2axT8Zlk

— WordCamp Montreal (@wordcampmtl) August 10, 2019
WordCamp 2019 Session Highlights
With over 45 sessions being presented over 3 separate simultaneous tracks, it was hard to choose which presentations to attend. Here are a few that caught our attention.
WHC's CEO Emil Falcon kicked off the first day presentations with Master your WordPress Deployments with a Staging System. Emil discussed the importance of using a staging (test) environment for your WordPress website in order to safely test changes and discover any bugs before publishing.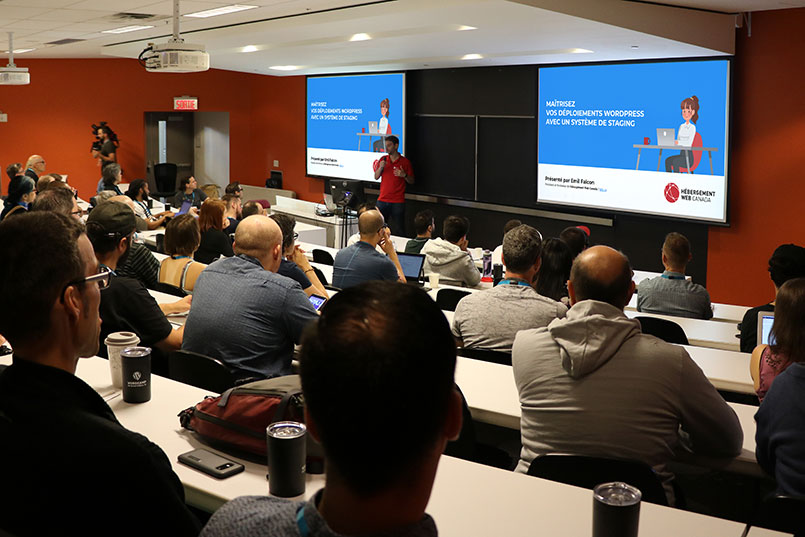 During Unscramble my design: UX tricks, Estella Garcia Zamora provided step by step instructions on creating an excellent UX design and organizing a site to enhance usability and make a superior first impression.
Cédric Béthencourt and Maxime Jobin presented 50 000 translations in 90 days for WordPress in French. Attendees learned the best way to organize their translation projects, along with many helpful tips, tools and resources for accuracy and efficiency. For instance, did you know that WordPress has a local French Canadian glossary for translating technical terms?
Testing and automation were on the agenda, with Andrew Taylor discussing how to Test Critical Features with Behat, Bérenger Zyla showcasing How to Ensure Continuous Integration and Deployments (CI/CD) in WordPress, and Sariha Chabert demonstrating how to perform End-to-End Automated Testing using CodeceptJS.
Keep on Learning!
If you missed a presentation, or the event altogether, you can view the slides from most presentations on the official WordCamp MTL 2019 website. Keep an eye on WordPress.tv in the next few months to see all the videos of the presentations from WordCamp MTL 2019. You can also view videos from past WordCamp events worldwide.
Speaking of videos, WHC will be releasing some of our own footage of the event in the next few weeks. Don't miss it!
Interested in starting your own WordPress project? Our
Managed WordPress Hosting
packages have everything Canadians need to experience WordPress at its best!
Thanks again to the fantastic organizers of WordCamp MTL 2019 and to all that attended the event. The WHC team had a blast and we hope you did too :)
Happy WordPressing,


---
---
Web Hosting Canada
manages fast and reliable online infrastructure with 24/7 support.
Learn more about WHC
Also on the WHC Blog

Technical SEO, a Beginner's Guide
In this final article in our SEO for Beginners series, we look at ways to improve your website's online visibility by tackling its technical components, also known as Technical SEO. What is Technical SEO? Technical...
Read full article

One-Click WordPress Staging is Here!
Every time you make a change to a live website, you risk introducing an error that could cost you time and money, or harm your organisation's online reputation. Depending on the change, potential problems range from...
Read full article
1
How can we help?
How can we help?
Our experts are available 24/7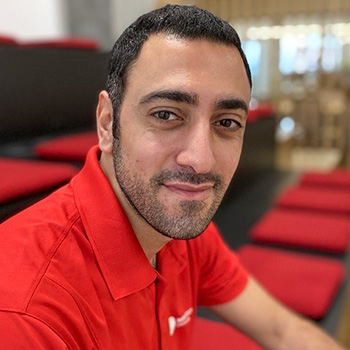 Chat Now
Questions?
Our friendly customer service team is available right now.
Start Live Chat
LIVE CHAT »