What's coming in 2023 at WHC
2022 kept us pretty busy here at WHC, and for all the right reasons. The team stepped up its game, and it's with pride that we look back at our achievements.
The bar is set high for 2023, but we're already well on our way. You can expect significant new features and improvements to the WHC ecosystem this year.
Let's first walk through 2022 together in case you missed something before we give you a sneak peek at what to expect in 2023.
How did 2022 go down?
2022 has been a wild ride, with the pandemic slowing down and inflation driving up the cost of living here in Canada and worldwide. WHC always focuses on offering a better overall client experience and more value for your dollar. Here's how we did just that.
We upped our domain game
It's no secret: WHC absolutely ❤️ domains! The year 2022 started on a high bid when WHC launched its Backordering Platform for .CA domains. We're now the go-to for domain backorders in Canada.
We've enhanced your domain experience with Domain Forwarding, Email Forwarding, and advanced DNS hosting and management included with every domain name managed at WHC at no additional cost.
Web Hosting got better
2022 saw multiple key improvements to WHC's web hosting, reseller hosting, and Managed WordPress hosting services.
cPanel, the control panel powering our hosting platform, saw three major releases, versions 100, 102, and 106, bringing you a new theme, enhanced support for Ubuntu OS, and better junk mail management with Roundcube webmail.
We rolled out WordPress 5.9, a core release with complete site editing (FSE) in the block editor. And then came Arturo, the name given to WordPress 6.0. This major core update allows you to manage an entire website directly from the WordPress Admin or even switch themes in one click.
If you work with Cloud and Dedicated servers, you can now provision them with Ubuntu or AlmaLinux as your operating system, ensuring future security and compatibility for years to come.
For web developers and performance lovers, PHP 8.0 or 8.1 was made available on all of WHC's hosting plans (with support for PHP 8.2 expected soon!)
We've continued to deliver on our promise of 99.9%+ uptime, and in a spirit of clarity and transparency, we launched our WHC status page, where you can see exactly what's going on with our platform in real time.
Better backups
We can't stress this enough: performing your own backups is essential! And now, JetBackup 5 makes it easier to perform a range of backup-and-restore operations right from your cPanel interface even faster. It's available with all Web Hosting, Managed WordPress, and Reseller Hosting services.
Better tools for your marketing
Thanks to WHC's status as an official Google Partner, we've assisted qualified clients in getting access to $600 in Google Ads credit for their marketing effort.
You now also have access to MailerMojo, an easy-to-use email marketing tool that helps you grow your business by letting you send beautiful email newsletters to clients and prospects. It's available for free with most plans at WHC.
Talking about sending emails, make sure you or your team looks professional with a business email that matches your brand or domain name. Our new plans now offer up to 10 email addresses, starting at less than $5 a month!
For other tools to grow your business, we also launched the WHC's Marketplace, a place to find trusted resources for your online project, from themes to banking and everything in between. You can also apply to have your B2B business listed.
Teamwork makes the dream work
We WHC-ers already knew but hey, it's always nice to be recognized by experts as a Great Place To Work! And for more reasons than one.

The team got out and about
After over two years of working remotely, we officially returned to our beautiful office in June. We all gather at least once per week but our very popular Work-From-Anywhere policy remains in full effect.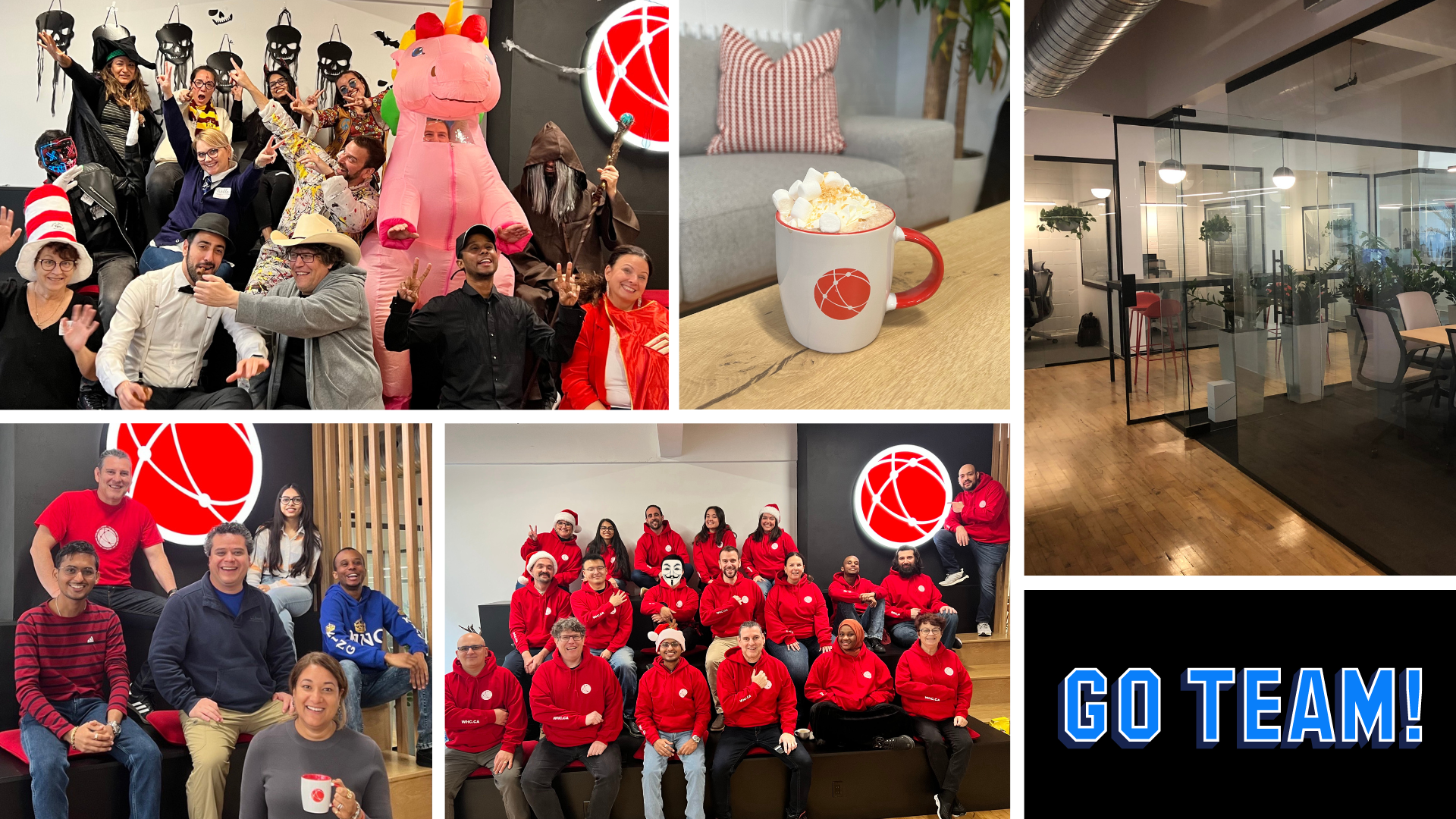 To stay ahead of trends, some of us also got to attend industry conferences and conventions, including NamesCon in Texas and the ICANN conference in Los Angeles. They brought back great insights, fresh new ideas, and some legendary memories like this one below! Soon to be framed at the office.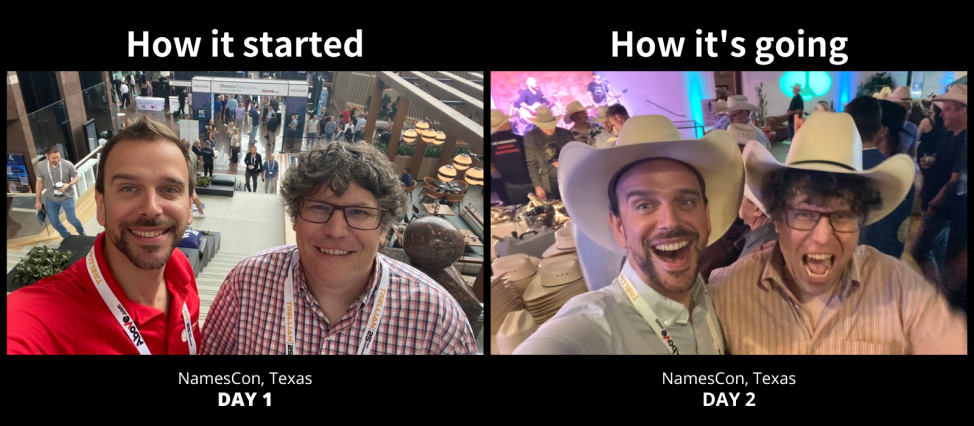 WHC took a stand
A sense of disbelief struck many of us here when Russia attempted to invade Ukraine, a free and sovereign country. WHC took a stand and donated to the Red Cross relief efforts over there. We hope to see a resolution to this conflict in 2023 and continue to support our colleagues caught in the crossfire in any way we can.
More great things to come
We have one mission in mind here: helping Canadians and their businesses succeed online. Here's what you can expect to see from WHC this year:
A new revamped Client Area
Get ready to experience a new, completely revamped Client Area! You will soon be able to enjoy a modern interface, a smoother user experience and easy access to your services in just a few clicks. You can get a sneak peek or subscribe to become a beta user.
A better, smarter Canadian Cloud
We're hard at work improving the performance, stability and effectiveness of our Canadian Cloud. In 2023, we're going to further leverage automation to alert you of issues and opportunities through intelligent monitoring and diagnostics tools, help accelerate your website's load times with enhanced caching and CDN capabilities, and to help you stay safe with enhanced, built-in security.
A new site builder
Say hello to SiteMojo, a new and easy-to-use website builder that quickly creates beautiful, fully functional websites, without the help of expensive website designers! Easy to use, SiteMojo has excellent features, perfect for Canadian businesses looking to build an online presence in just a few clicks.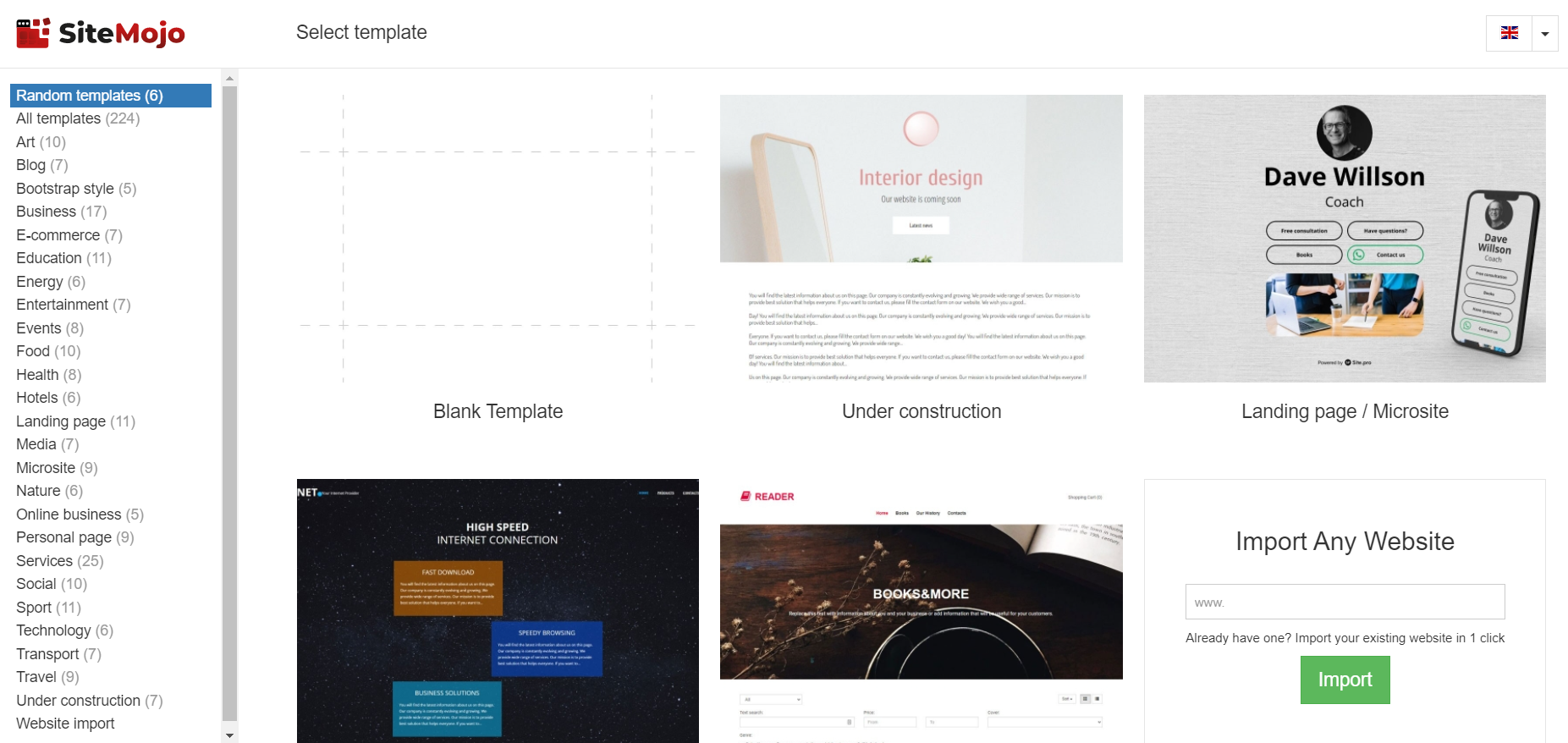 Featuring hundreds of mobile-ready website templates, an intuitive drag-and-drop interface, that supports multi-language and standard e-commerce, SiteMojo is a great way to publish a beautiful, functional website rather quickly.
And guess what? SiteMojo will be included for FREE with all our hosting plans.
An enhanced email experience
2023 will bring a reimagined and enhanced email product line to WHC clients, allowing you to be even more productive with something you're likely already using on a daily basis.
A better experience with domains
If you love domains as much as we do, you might want to join the recently launched The Domain Club, an exclusive savings & perks program for those looking to get the most out of their domains. Membership is free, starts at only 25 domains, and provides some of the best rates in the industry.
In 2023, you can expect many other domain initiatives, including premium domains and we might even dip our feet in the aftermarket, while always continuing to improve the technology powering our industry-leading backorder platform.
To the future and beyond!
In 2023, we aspire to inspire others and contribute to a better Canada. Through our 'WHC Gives Back' program, we work with neighborhood shelters and food banks to help make a positive impact within our community.
Contributing to the success of Canadians across the country is a true honor.
If you have any recommendations or ideas, you should know you can always contact our marketing and communications manager, Marie-Eve at marie-eve@whc.ca or share your thoughts in the comments section or on social media.
Make sure you subscribe to our newsletter or follow us on social, so you don't miss a beat.
We're pumped for 2023 and we hope you are too!
---
---
Web Hosting Canada
manages fast and reliable online infrastructure with 24/7 support.
Learn more about WHC
Also on the WHC Blog

6 Benefits of having a blog for your business
Let's be honest. If you have a business, whatever its size, you may already have asked yourself this question: What are the benefits of creating a blog for my business? Maybe your competitors already have a blog brimming...
Read full article

The Domain Club at WHC
This new year's off to a great start for domainers and domain enthusiasts. Always with the goal of continuously improving the overall domain experience at WHC... We just launched The Domain Club! That's right!...
Read full article
1
How can we help?
How can we help?
Our experts are available 24/7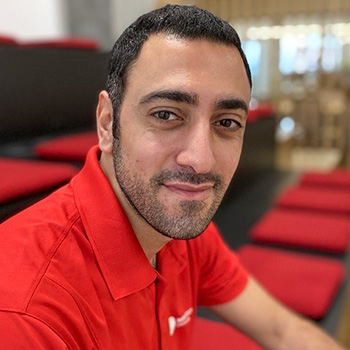 Chat Now
Questions?
Our friendly customer service team is available right now.
Start Live Chat
LIVE CHAT »